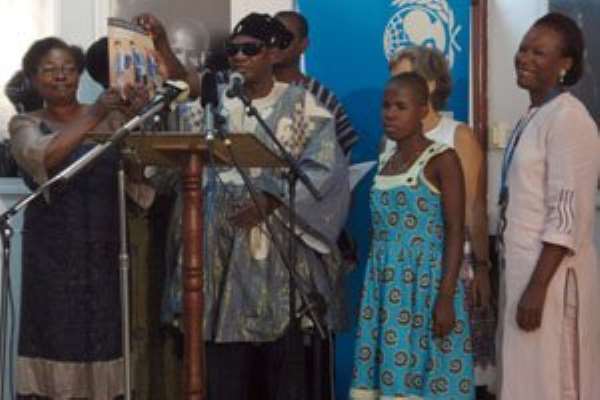 Dr Henry Seidu Danaa together with the government officials, organizational representative and children with disability lunching the report.
The United Nations Children's Fund (UNICEF) has called on government to show more commitment towards the implementation of the Convention on the Right of Persons with Disability and the Convention on the Rights of the Child which mandate all children to have the same rights including children with disability.
According to the organization, government response to the situation of children with disability has largely been limited to institutionalization, abandonment or neglect of the children with disability.
These responses the organization believed are the problem rooted in negative or paternalistic assumptions of incapacity, dependency and difference that are perpetuated by ignorance.
'What is needed is a commitment to these children's rights and their future, giving priority to the most disadvantaged,' the UNICEF 2013 state of the world's children report recommended.
The 2013 UNICEF annual flagship publication launched in Accra, focused on children with disability, how they fare at home, in schools and at health care centres and argues for inclusive and equitable approaches in such areas such as early childhood development, education, health, nutrition, humanitarian responses and protection.
The report also documented the positions of children as architects and agents of change in their towns, villages and cities.
Susan Namondo Ngongi, UNICEF country representative speaking at the launch said although Ghana should be commended for ratifying the convention on the right of persons living with disability, more needs to be done to help children irrespective of their ability or disability to reach their full potential.
She said data from the 2010 National Population census shows that children with disability make up 20 percent of the total population.
'These children compared to their counterparts without disability constitute the largest number of children who do not attend school,' she said.
Ngongi said UNICEF recognizes children before their disability and sees their rights as children as the same as children without disabilities.
She therefore urged government to get children with disability into school irrespective of their situation through interventions such as enrolment campaigns, as well as school for life programmes.
Dr Henry Seidu Danaa, Minister of Chieftaincy and Traditional Affairs who launched the report said discussions are ongoing between his Ministry and the Ministry or Gender, Children and Social Protection to work together on how traditional beliefs and practices which impede the development of disabled children are stopped.
'Together we have a duty to work hard so that children in the future do not go through what they are going through now,' he said.
By Jamila Akweley Okertchiri