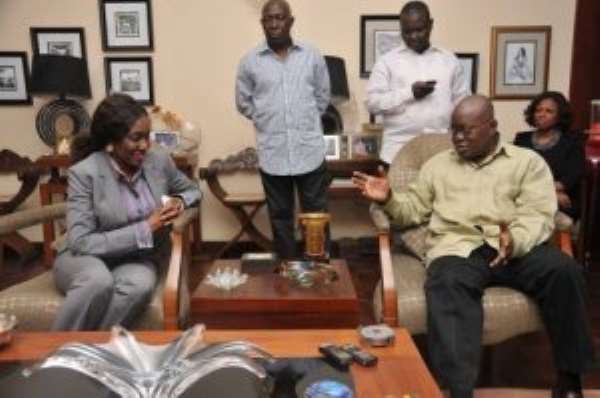 Former first lady, Nana Konadu Agyemang Rawlings has visited the 2012 presidential candidate of the New Patriotic Party, (NPP) Nana Akufo-Addo to commend him for accepting the verdict of the Supreme Court on the election petition case.
She however suggested that Nana Addo should publicly explain what the Supreme Court verdict on the election petition means for the future elections in the country.
According to her, many Ghanaians are confused by the ruling and are speculating on what the ruling means for biometric voting and over voting in Ghana.
'The only thing that I will like to put before you as a lawyer and a statesman is to explain things to Ghanaians, because people are at a loss… Are they now saying that after spending a lot of money on equipment for verification, it doesn't matter anymore, is that what they are saying; that we can vote without verification,'' she asked.
The leader of the National Democratic Party (NDP) made the comments when she paid a courtesy call on Nana Akufo-Addo at his residence in Accra.
According to Mrs. Rawlings the Supreme Court verdict gives room for speculations that voting without verification machine is not more necessary.
Mrs. Rawlings also commended Nana Akufo-Addo for putting the nation first in his acceptance speech after the verdict.
''The nation comes before all of us and to have put that [first] at the time when you could have said to your party members it was a stolen verdict…''
She commended Nana Addo and the NPP for showing true democracy.
Nana Addo on his part said his actions were purely because he believes in democracy. 'The verdict has come and the business of explaining it is a duty that we have to expose the decision for the people of this country to understand exactly what it is that the judges had said.''
Nana Addo was also visited by a three member delegation from the United Nations who commended him for his conduct and the decision not to seek a review in the Supreme Court's judgment.
The UN delegation was led by the Special Representative of the United Nations Secretary-General (SRSG) for West Africa, Said Djinnit.
Mr. Djinnit also commended the NPP for seeking legal redress in challenging the results of the 2012 Presidential elections.
Citifmonline