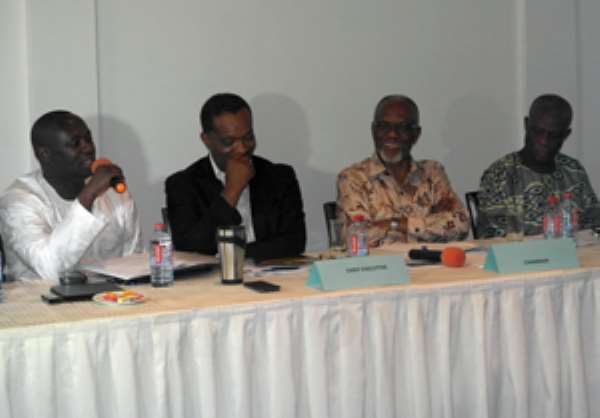 Energy Minister, Kofi Buah (with mic) addressing the VRA stakeholders forum. With him are Prof Akilakpa Sawyerr (2nd from right) and Kweku Awotwi (2nd from left)
A 200 PERCENT increase in the cost of crude oil required to run VRA's plants in 2012 cost the company its profits last year.
Revenue from the sale of electricity by VRA rose from GH¢1,111 million in 2011 to GH¢1,749 million in 2012, but its losses ate into the revenue, Prof Akilakpa Sawyerr, Board Chairman of VRA said.
Speaking at the 4th Annual Stakeholders Meeting of the Authority Wednesday in Accra, Prof Sawyerr said the 2012 net income loss of GH¢90.2 million, compared to a net profit of GH¢82.6 million in 2011, explained the reversal in profits, adding that VRA was also compelled to use expensive light crude oil and diesel occasionally because of the unavailability of gas at the time.
He said over the period under review, Government paid GH¢361 million to VRA to make up for the shortfall in tariff, saying it was a subsidy to domestic power consumers.
Chief Executive Officer of VRA, Kweku Awotwi, in a speech, urged stakeholders to continue to support the Authority as it was now well-placed to address any challenge that would befall it.
Mr Awotwi however decried calls for separation of VRA from the Northern Electricity Distribution Company (NEDCO), stating that it was important for the two institutions to work together to attract the necessary resources as well as minimize the inefficiencies and distribution losses in the sector, rather than for them to operate separately.
Emmanuel Armah Kofi-Buah, Minister for Energy and Petroleum Resources, commended VRA for its immense contribution to the country's energy sector, especially when it was faced with difficulties in gas supply.
'It is gratifying to note that even before government could think of an alternative fuel apart from gas, VRA had made an earlier move to import Liquefied Natural Gas (LNG) to fuel their equipment in order to curb the situation,' the minister said.
 A business desk report