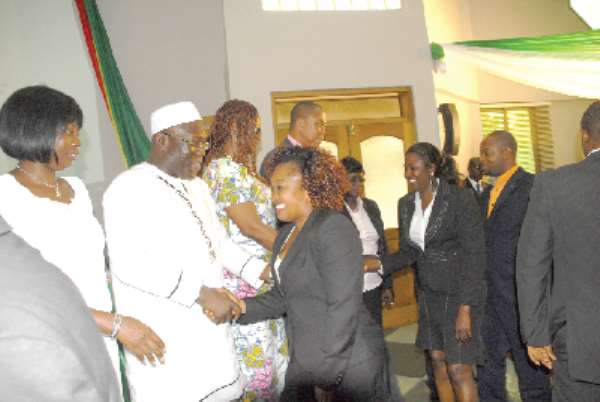 Thirty officers of the Forestry Commission have been trained to prosecute forest and wildlife-related offences.
They passed out after eight weeks of intensive training.
Their mandate, granted by the Ministry of Justice and Attorney-General, forms part of measures to combat illegal exploitation of forest and wildlife resources.
Statistics show that apart from agricultural expansion and wild fire which cause over 60 per cent of deforestation and degradation, illegal harvesting of wood for various purposes such as timber, fuel wood and charcoal cause about 35 per cent of forest loss.
Several interventions have been put in place to stop further degradation but  cases of illegal exploitation of the forest continue to be reported.
Addressing the passing-out parade, the Minister of Lands and Natural Resources, Alhaji Inusah Fuseini, said it was time to enforce the law to the letter to deal with  the indisciplined acts that had become a threat to the sustainability of our forest and wildlife reservations.
"It is for this reason that I see the passing-out of the 30 newly trained officials of the Forestry Commission as a timely intervention," he stated.
The Public Prosecutors Instrument 1976 (EI 4) mandates officials of the ministry responsible for forestry not below the rank of technical officer to prosecute all criminal cases and matters under forest and wildlife laws.
Alhaji Fuseini noted with concern that perpetrators of the illegal activities, sometimes due to selfish motives, ended up killing innocent and hard-working staff of the Forestry Commission.
The Chief Justice, Mrs Georgina Theodora Wood, in an address read on her behalf, said the move by the Forestry Commission was timely, in the face of the incessant and alarming illegal activities in the forest and wildlife sectors.
She commended the Ministry of Justice and Attorney-General's Department for granting the request of the Forestry Commission to train some of its staff.
In his address, the Chief Executive of the Forestry Commission, Mr Samuel Afari Dartey, said 'the vision of the commission to have public prosecutors to prosecute societal deviants who fall foul of forestry and wildlife laws has become a reality'.
By Salomey Appiah/Daily Graphic/Ghana