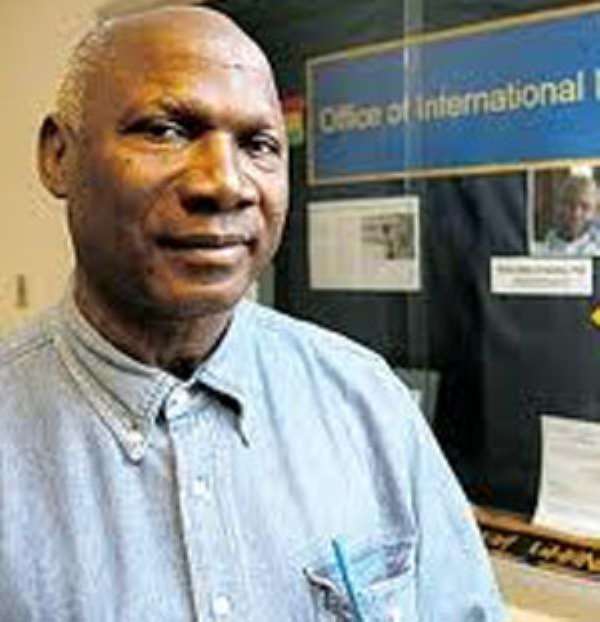 Kwasi Ansu-Kyeremeh
I had to revise the beef. I had hoped to write on the motherland having her own 8/29 tsunami in a respondent stepping down for a petitioner. Little did I know democracy, if it really existed in the motherland, was going to be murdered in verbal blood.
It could have been momentously a 9/11 story. Yet it would not have been about disaster. It was to be about victory for democracy, shaking society at the roots without bringing death and destruction. Japan's was 3/11 of year 11. America's was 9/11 of year 02, a Tuesday. Ours was to be Thursday born.
We could then have called it Yaw, Yao, Yaa or Yawa Tsunami. Or we could have called it Ato or Aba Tsunami. We could also have called it Danlamisi Tsunami.
Now, though, it is all about a battered democracy; a democracy battered to death by words unworthily assembled to destroy and not to build.
My compatriots, let none of you or anyone you know or are acquainted with tell me that the motherland's so-called democracy is ahead of any in the continent of Africa. It is as rotten as any African democracy. It reminds me of Kwame Gyawu-Kyem's editorial headed the 'law is an ass.'
How on earth ballot papers found in the ballot box exceeding actual ballot papers that were handed voters to cast cannot be over-voting only people who are ready to murder democracy as in free and foul elections can tell.
And how votes cast without biometric verification can be counted as legitimately verified would forever remain a democratic mystery unless it is democracy hacked into pieces with a judgment.
Be that as it may, I am personally glad that Nana Addo-Dankwa Akufo-Addo has so magnanimously conceded that the 2012 presidential election is over and that he did not win. Nana, you are a very fine politician and the motherland is proud to have had you.
You fought free and foul election and lost. That is something that you cannot be regretful of. You have opened our eyes to how votes can be daylight robbed. I am not sure anyone can ever stop that. My compatriots were hoping someone will stop election thievery the way it happened in 2012.
Poor us, we will have to live with it forever. All those my thirty to forty something young women with and without children, especially schooling children all over the motherland are in tears. They find no hope in bringing up their children to speak the truth. They find no hope in food, shelter, clothing, water, transportation, health care and schooling for their children.
They were hoping a Nana Akuffo-Addo would emerge sometime to salvage a sinking motherland and provide the modernizing, purposeful and enlightened leadership that would empower them to feed, clothe, educate, shelter, transport and provide health care for their children. All was to be, smashed by three hurting words 'petition is dismissed.'
At least now we know elections are a joke in the motherland and sadly that nothing can be done about that joke because someone will endorse that joke as rather something that is serious.
In optimistic expectations, democracy is dead will be followed by long live democracy. But let me ask you my compatriots, how many of you think this democracy should live long? How many of you believe democracy is about cheating and lying and a confused Electoral Commissioner?
Damn the creators of democracy if this is what they made it to be. Damn an election system in which he who steals most triumphs. Damn that democracy which brings only pain to mothers anxious to give their children the best a world can offer. Damn it!
So tell me, my compatriots, which old woman would go and queue at 3 am to vote so that some crook will go and duplicate result (pink) sheets and create non-existent polling stations to render her vote countless?
Just as I started to pose this question, I received a text message from a woman, a very hurt woman to wit: 'What a shame for Ghana's democracy. Should I continue to vote?' It is a question many of you my compatriots would be asking yourself on this day of the death of democracy. My response to her was time will tell.
Now may be important. The future is even more important especially for the children and the youth. How some as sixty-somethings have decided to kill every hope for the ones we should have built a bright future for is shame unlimited.
We can continue with the stinking democracy of looting and destroying the motherland's resources. We can encourage election stealing. I can assure you each architect of such rot shall be paid in that same kind. They call it law of kharma; no curse!