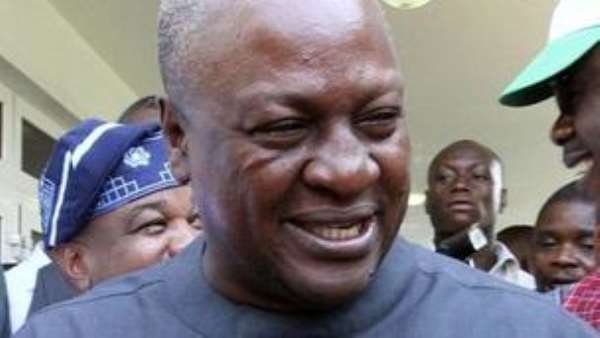 The government is to expand infrastructure and improve facilities at public medical schools to increase their intake.  President John Dramani Mahama, who made the promise, said it was disturbing to see senior high school (SHS) graduates with 'A' passes who could not gain admission to medical schools in the public universities.
He was speaking at the 46th congregation of the University of Cape Coast (UCC) and first oath swearing and induction ceremony of the School of Medical Sciences of the UCC (UCC-SMS) on Saturday.
The formal inauguration of the UCC-SMS and the matriculation of the first batch of 42 students was on January 17, 2008.
All the students, after pursuing a six-year course, graduated with Bachelor of Medicine and Bachelor of Surgeon degrees.
The UCC-SMS has a student population of 238, comprising 124 males and 114 females.
One of the graduating students, Yvonne Ayerki Nartey, swept 12 awards, including the Overall Best Graduating Student, the Vice-Chancellor's Award for Overall Best Performance, the Overall Best Student in Surgery and the Overall Best Student in Obstetrics and Gynaecology.
President Mahama promised that in view of the low doctor-patient ratio, the government would allocate more resources to expand infrastructure and improve facilities at medical schools for them to train more doctors.
He said the government would upgrade the Central and Volta Regional hospitals into teaching hospitals.
He announced that the government had secured $10 million to support the ongoing construction at the University of Health and Allied Sciences in the Volta Region and the University of Energy and Natural Resources in the Brong Ahafo Region.
President Mahama said the government's efforts had led to a reduction in the number of schools under trees by half and the elimination of the shift system in basic schools.
He congratulated the fresh doctors on their dedication and urged them to show compassion to their patients in line with their Hippocratic oath.
The Vice-Chancellor of the UCC, Prof Domwini Daabre Kuupole, said the six-year community-based training given to the medical students had prepared them to function professionally.
He appealed to the government to support the university to complete the construction of lecture rooms, a library and the Academic Affairs building of the UCC-SMS.
The Dean of the UCC-SMS, Prof H.S. Amonoo-Kuofi, said the school lacked infrastructure, for which reason it could admit only 50 students at a time.
The Chancellor of the UCC, Sir Dr Sam Esson Jonah, said there was the need for more doctors to be trained to ease the pressure on the few at post.
By Joe Okyere & Musah Yahaya Jafaru/Daily Graphic/Ghana