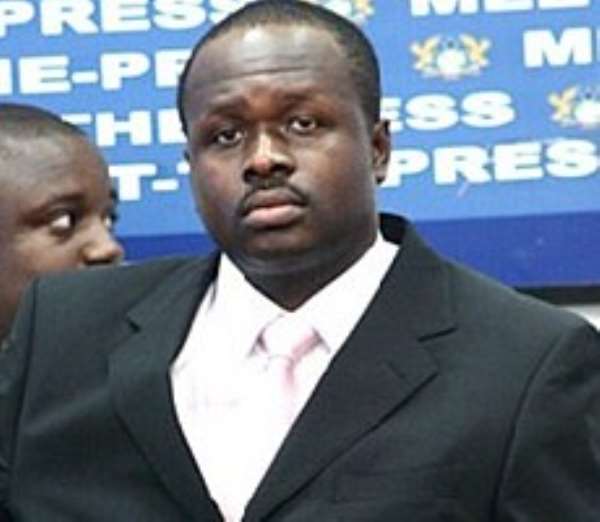 Communications Minister, Dr Omane Boamah
The first ever Ghana e-Commerce Expo, which will exhibit the information and communication technology tools which can be used to enhance business transactions, has opened in Accra.
Communications Minister, Dr. Edward Omane Boamah, whose ministry is supervising and implementing the e-Ghana project, opened the e-Commerce Expo.
He said, "This e-commerce Expo is a welcome development in the promotion of ICT for our national development [because] it brings out the valued responses to the numerous initiatives that Government is putting in place to transform our economy and country from an agrarian raw-material-dominated production-base into a forward-looking, information and knowledge-based society that holds the key to our eventual prosperity."
According to organizers, the event, which is under the theme: "Building Ghana's Businesses Online," was designed to help make Ghana the hub of ICT investments and gateway to Africa.
Dr. Boamah said the government had recognized the phenomenal growth in the ICT industry and was "supporting the development of critical internet infrastructure by arranging for the supply of three additional switches for Internet Exchange Points and a Root Name Server to improve internet traffic, reduce its costs, promote local content development and above all, reinforce its security to make it secure and safe for users."
Internet usage in the country, he said, was improving rapidly largely due to mobile internet provided by the telecommunication companies, and aided by the progressive reduction in the cost of bandwidth.
The telecom sector, according to him, "continues to register impressive growth rate with mobile subscriptions figures totaling nearly 26.5 million as at the end of first quarter of 2013."
This increasing internet penetration, buoyed by the impressive growth in mobile phone subscription has contributed significantly to the Services sector and presented great opportunities for e-commerce, he stated.
"In the area of broadband, Government is building a national terrestrial optic fibre network to cover all the Districts and Constituency areas of the country. We have optic fibre transmission route from Accra to Paga with a loop covering Kumasi, Sunyani, Techiman, Tamale, Wa, Tumu to Paga. In June 2012, Ghana successfully connected its terrestrial optic fibre with those of neighbouring sister countries of Burkina Faso and Togo at Cinkanse (northern Togo)," he said.
According to the Communications Minister, "We have also established a point of presence on the western border, preparing to directly connect with La Cote d'Ivoire, in addition to the submarine link. With this level of international connectivity, Ghana has already fulfilled the ITU's Connect-Africa target, before the time."
"Under the Ghana e-Government Platform Project, existing WIMAX sites are being upgraded to LTE standard and this will involve 90 sites to enable the deployment of advanced ICT Applications in education, health, commerce, Open Government and other business opportunities."
Dr. Omane Boamah revealed that government in an effort to promote electronic commerce in Ghana, had commenced "the introduction of set of e-Services for Web Content Management, e-Forms and Document Work Flow and has developed online Payments on a pilot basis as a shared service for 10 MDAs, including; Passport Office, DVLA, FDB, Ghana Tourist Authority, Criminal Investigations Department, Ghana Police Service, Births and Deaths Registry, AMA, NIA, NCA and Minerals Commission."
"Indeed, a pilot e-Payments/e-Commerce platform has been developed as a shared service for 12 selected MDAs and the initial tests on functionality have been positive. The Controller and Accountants General's Department has therefore been approached to initiate procedures for opening of pool accounts for processing of Visa and e-Transact payments," he added.