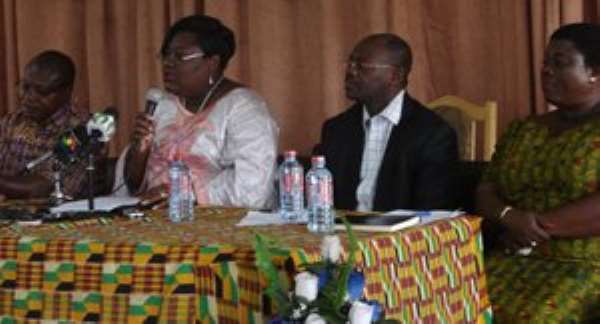 from left Mrs Christian Gockel, MoGCSP Director of finance and administration, Mr Amo Hinson, MoGCSP Chief Director, Nana Oye Lithur and Mr Christopher Babooroh, Director of the Department of Social Welfare.
THE MINISTER of Gender, Children and Social Protection (MoGCSP), Nana Oye Lithur, has appealed to all well-meaning Ghanaians and organizations to support the ministry to enable it discharge its duties to the public.
According to the minister, the support of the private sector would augment government budget allocation for the ministry which currently is facing challenges in supporting government orphanages with the needed finances and logistics.
'We admit government is facing challenges in running the orphanages and so we are appealing to all well-meaning Ghanaians to come to our aid, we need food, money and logistics,' she said.
The sector minister made this appeal during a media engagement to discuss issues related to the recent moratorium the ministry placed on inter-country adoptions.
She said temporary hold on adoptions in the country followed a worrying trend in the adoption of children in a way that is detrimental to their welfare, adding that the adoption cases had doubled over the past years with over 19 illegal adoption agencies springing up.
'The temporary ban was therefore to enable the Ministry to ensure re-engineering and review of the adoption processes in order to ensure best practices for effective service delivery,' she said.
Mrs Lithur further observed that the moratorium which is expected to be lifted by the third quarter of the year would provide the ministry with the needed time to streamline and reconstruct the role of the Department of Social Welfare in the adoption process to protect the vulnerable and provide a more transparent and standardized service delivery.
She however noted that during the period, special cases would be determined and granted approval for processing at the head quarters of the Social Welfare Department.
'The adoption desk at the headquarters shall receive emergency applications and examine the justification and convey approval where appropriate,' she said.
Mrs Lithur said the ministry would establish a central database on foster care and adoption for the country and integrate the results of the review into the Child and Family Welfare Policy which would help reform the child protection system in the country.
By Jamila Akweley Okertchiri