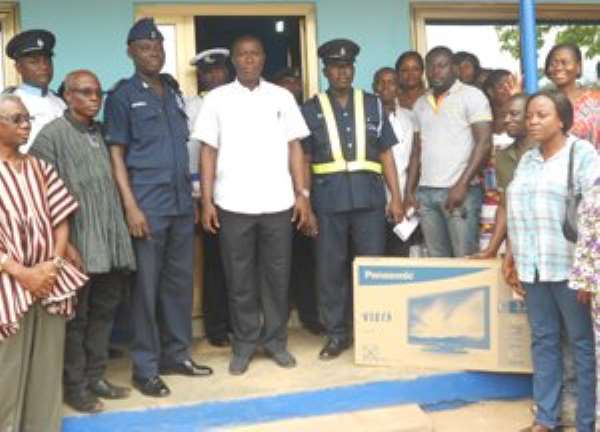 Patrick Yaw Boamah with some Officers at the Tesano District Police
Commercial drivers who operate from Abeka-Lapaz to various destinations in Accra have requested the Member of Parliament for Okai-Koi Central, Patrick Yaw Boamah, as well as the Okai-Koi Sub Metro Assembly to expedite work on the construction of a proposed bus terminal so as to ease congestion at the current location where they operate.
The drivers are also unhappy about footbridges on the main highway which have been constructed at far distances from the main terminal with explanation that commuters, due to the distance, are often tempted to cross the road at inappropriate places which consequently lead to fatal accidents.
Vice Chairman of the Lapaz-Tema GPRTU, Isaac Obeng Kumi, has also summarized drivers' complaints on a directive from the mother association which requested drivers to retain transport fares at a fixed rate despite two consecutive increments in fuel prices.
The commercial drivers expressed their worry when the Member of Parliament toured some communities in the constituency on Wednesday.
Locations he visited included the main Abeka-Lapaz bus terminal, the Tesano District Police Station, the Abeka Mantse Palace and the Fadama Ophanage.
Mr. Boamah inspected work on drains under construction at some flood-prone locations in the constituency.
He urged residents to keep their surrounding tidy and also advised them to desist from making gutters filthy with garbage.
He also implored residents to build at demarcated areas and refrain from building in water ways.
The MP in response to complaints by drivers assured them of his determination to adopt necessary measures in order to resolve the problems especially those of the footbridges and indicated he would press for the construction of the wider bus terminal.
Chief Inspector Augustine Mensah, Tesano District Police Station, also appealed for the construction of a transit quarters for police recruits so as to reduce accommodation burdens on them.
Mr. Boamah as part of the constituency tour presented the Tesano Police Command, inmates of the Fadama Ophanage, GPRU Executives at Lapaz and the Gyaasetse, Nii Boi IV of Abeka, with a set of brand new Panasonic LCD television.
BY Ernest Nutsugah