It is time to move forward - President Mahama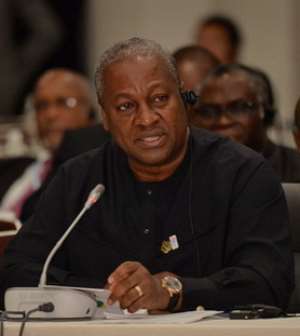 President John Dramani Mahama has urged Ghanaians to put the election petition behind them and work together as a united people to build the country.
He said Ghana was confronted with a lot of challenges, and therefore Ghanaians could not be cynical at this material moment of the nation's history.
"We cannot afford to be cynical. We do not have the luxury of sitting on the sidelines. We must all work to make Ghana work," he said.
President Mahama made the call in his address to the nation barely six hours after the Supreme Court upheld the validity of his 2012 election.
He said the victory was not for one political party or one individual and that the victory was for all Ghanaians.
He said over the last eight months the country had witnessed the evolution of the democratic process.
"The political maturity with which Ghanaians received the Supreme Court verdict coupled with our patriotism will ensure that Ghana is the ultimate winner, not any one individual or political party," he said.
The President said the challenge that was issued to the Supreme Court, and the discussions, debates and even disagreements that the petition has inspired can only strengthen our institutions.
"In a democracy, fair, compassionate and decisive leadership must operate within a framework that is fully functional. Strong institutions are the bedrock of strong nations," he said.
President Mahama, therefore, asked Ghanaians to allow the exercise and experience to move us forward.
"If we allow it to do otherwise; if we allow it to be destructive, rather than constructive, then we would have failed as a nation to learn the lessons that were imparted; we would have turned our backs on this rare and critical opportunity for our nation and its institutions to evolve; we would have allowed ourselves to become enemies of our own progress," he said.
President Mahama said Ghana existed today not by accident but because of the sheer dedication of her foremothers and forefathers who built the institutional foundations and designed the country's democracy.
He said the country had witnessed patriotism, which was visible as they rallied together in football matches, funerals and the support they extended to strangers.
"It is the patriotism we show in our everyday lives and the respect they show to our differences, and the intolerance we show for every political persuasion and religion," he said.
President Mahama said Ghanaians were known the world over for the richness of their diversity.
"We have always held fast that we are all Ghanaians with abiding love for the country. We have always held firm to the conviction that Ghana will work and that Ghana must work," he said.
President Mahama said history had always shown that Ghanaians possessed a distinct political maturity, one that had promoted stability in the country and had inspired on the continent and throughout the developing world.
He said Ghanaians were demonstrating what Dr Kwame Nkrumah said at independence that "we are laying our own foundation and identity.
"Since coming from the colonial era, Ghana had laid a foundation of self-rule, a system of governance that reflects our particular history and our African identity," he said.
President Mahama said he and Nana Akufo-Addo had a conversation, "and I am assured that with this court case over and the verdict announced, we can now, all of us, put this behind us and turn our full attention back to building this great nation."
He said the government was ready to work for all Ghanaians.
"It is my expectation that all Ghanaians are also prepared to work to uplift our nation, because Ghana must succeed.
"And if, together, we face whatever challenges that come our way, our systems and our institutions will continue to be strengthened; our democracy will continue to grow, and our homeland, Ghana, will succeed.
President Mahama thanked the Supreme Court for their dedication to the constitution, his legal team for their respect for law, the media for its diligence and all Ghanaians for their patience throughout the trial.

By Musah Yahaya Jafaru and Timothy Gobah, FLAGSTAFF HOUSE
Daily Graphic/graphic.com.gh/Ghana