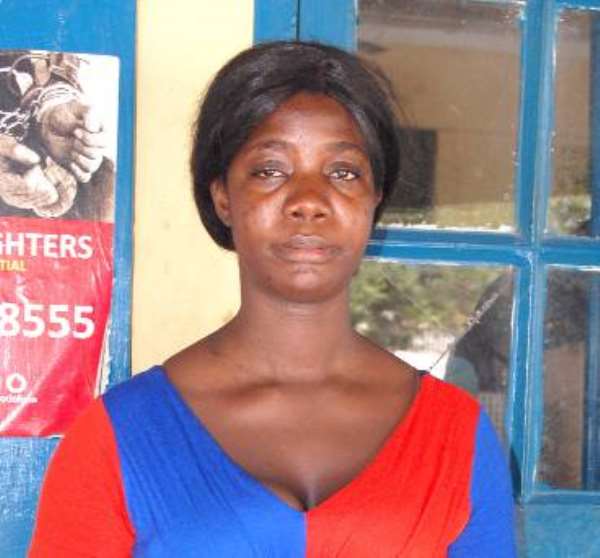 Emelia Appiah
Accra, Aug. 28, GNA- Emelia Appiah, a suspected wedding thief, at her second appearance on Wednesday before an Accra circuit court, changed her plea of not guilty to guilty.
 
Emelia, who was refused bail by the court at the last adjourned date, pleaded guilty to the offence of stealing GH¢ 15,000.00 belonging to Mr and Mrs Eric Botwe, at their wedding reception.
 
She has been remanded into police custody to reappear on September 9 for judgment.
 
The facts of the case as presented by Police Inspector Kofi Nyadikor are that the complainant is Mr Eric Botwe Junior, a businessman, while the accused is unemployed.
 
He said on April 20,  the complainant married Mrs Linda Botwe and on the  morning of the event the accused went to his house and pretended to be a member of the team to dress the bride but she was turned away because by that time, the bride had already been adorned.
 
Inspector Nyadikor said the accused later followed up to the All Souls Baptist Church, South La, where the wedding took place and again impersonated Salome Boatemaa Boamah, a witness in the case, who was part of the team in charge of the gift table.
 
He said, on that note, the accused was allowed by the church clerks to gain access to the gift table.
 
He said after the wedding ceremony, all the gifts, made up of envelopes containing GH¢15,000.00 and the parcels, were taken to the reception grounds at the 37 Military Hospital Army Officers Mess.
 
The prosecution told the court that the accused, during a conversation with another witness in the case, introduced herself as a course mate of the bride at the University of Cape Coast.
 
He said after the wedding reception, the parcels and the record book were bound together and separated from the bag containing the envelopes.
 
As the witnesses packed the parcels into the wedding cars, the accused stole the bag containing the envelopes and bolted in a waiting taxi.
 
Inspector Nyadikor said on April 21, the complainant lodged a complaint at the Cantonment Police Station and informed his friends to help find the accused.
 
He said on August 17, the accused was spotted at another wedding reception at Margaret Mary Preparatory School, Dansoman, by one of the witnesses in the case, busily receiving parcels.
 
The witness raised the alarm and the accused was arrested and sent to the Dansoman Police Station and later to Cantonment Police Station.
 
Inspector Nyadikor said in her caution statement, the accused admitted the offence and stated that she stole GH¢ 8,000.00.
 
GNA