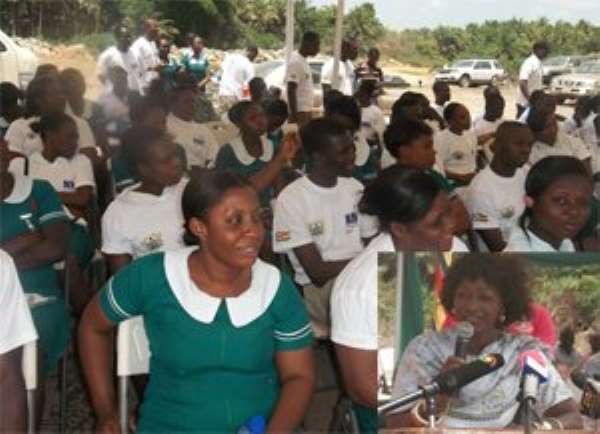 some health workers at the ceremony. INSET: Sherry Ayittey, Minister of Health
The move forms part of government's efforts to eliminate the health disparities in the country. The district hospitals would be built in Dodowa, Sekondi, Kumawu, Abetifi, Fomena and Garu Tempane.
At a symbolic groundbreaking ceremony to signify the commencement of constructional work on the projects at Kansaworodo in the Essikado-Ketan constituency yesterday, the Minister of Health, Sherry Ayittey disclosed that the European Hospital, located in Takoradi would also be upgraded and re-equipped as part of the contract.
She noted that the 120-bed capacity hospitals represented a new direction and a departure from the traditional building construction technologies.
The Health Minister disclosed that all medical equipment for the construction of the hospitals had been sourced from the United Kingdom, adding that the execution of the projects was underway and was being supported by a UK-Ghana technical team.
'To ensure the successful implementation of the project, a Project Steering Committee, comprising all stakeholders had been put in place to among other things review progress of work from time to time,' she added.
The Western Regional Minister, Ebenezer Kweku Teye Addo, noted that government attached serious importance to improving upon the health service delivery system in the country through the construction of new hospitals and expanding existing ones.
'The construction and establishment of CHPS Compounds across the country is a further strategy to bring health care delivery to the ordinary Ghanaian, while the improvement in the ambulance service and provision of hospital equipment are all geared towards improving services of our health professionals,' he added.
He bemoaned the upsurge in cases of teenage pregnancy in the region, particularly along the coastal districts and also in new cases of the prevalence of HIV.
He then urged all stakeholders to redouble their efforts in ensuring that the health needs of the people were met.
The NMS International Programme Director, Peter Marks indicated that all the six districts uniqueness and cultural differences had been incorporated into the designs and features of the hospital adding that the project would create employment and offer vocational training for hundreds of people in the country.
 From Emmanuel Opoku, Kansaworodo