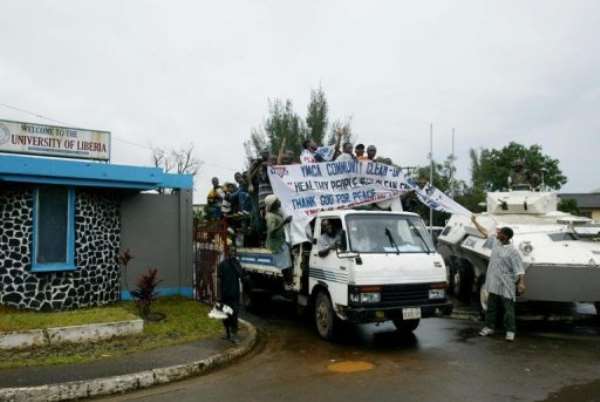 Volunteer students drive out of the University of Liberia on August 30, 2003. By Pius Utomi Ekpei (AFP/File)
MONROVIA (AFP) - Liberia's main public university said on Wednesday all 25,000 applicants for the new academic year had failed its entrance exam.
The University of Liberia, which educates more than half of the country's students, said it had been forced to admit 1,000 failed candidates for the new term which begins next month.
"None of the 25,000 students who sat the test (obtained) the required points," said Ansu Sonii, a vice-president of the Monrovia-based university.
The Liberian parliament's education committee chairman Bill Tuaway blamed poor teaching for the failure, the first time in Liberia's history that no student has passed.
"This is a clear indication that the quality of education in Liberia is very bad. This shows how our teachers don't teach well," he told reporters.
Liberia is recovering from 14 years of civil war that ended in 2003 and left the west African nation in ruins.
Today it is still struggling to get back on its feet under President Ellen Johnson Sirleaf, in power since January 2006.
Widespread poverty has led to a large proportion of parents putting their children to work rather than sending them to school, according to various studies by the United Nations and other organisations.
Although there are a handful of private higher education establishments and another tiny state-run university, in practice more than 90 percent of the country's publicly-educated undergraduates go to the University of Liberia.