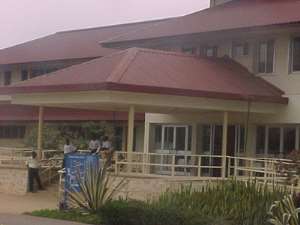 Sunyani, Jan 31, GNA - Alhaj Dr Mohammed Bin Ibrahim, Brong Ahafo Regional Director of Health Services, announced on Friday that a Nurses Training College would soon be attached to the new Regional Hospital, in Sunyani.
"With your co-operation the College will start operating within the year," he told the staff of the Hospital at an end of year party. He said a team of eight Professors in the medical field would visit the Hospital next month "to see whether the hospital can be accredited to train post graduate medical personnel".
The team would also look into the possibility of the Hospital offering Houseman-ship training for new Doctors.
The Regional Director commended the staff for their teamwork and co-operation, which he said had enabled them to adapt to the new facility and its sophisticated equipment for efficient health care delivery.
He urged them to continue with the spirit and to extend it to the Team of Professors for the achievement of the desired goals.
Nana Kwadwo Seinti, Brong Ahafo Regional Minister, urged especially the nurses to help salvage the image of the Hospital, which he said was low because of their alleged insolence towards patients. "Let us change our attitudes, which form a substantial percentage of the healing process for patients, apart from the drugs and the serene atmosphere and environment," he said.
The Regional Minister gave the assurance that the government was working seriously to provide accommodation for health personnel at the Hospital.
Dr Daniel Asare, Medical Director in charge of the Hospital, said the administration was determined to offer "a comprehensive health delivery system this year and beyond".
He commended the staff for their dedication and urged them to eschew attitudes that would damage the image of the Hospital.