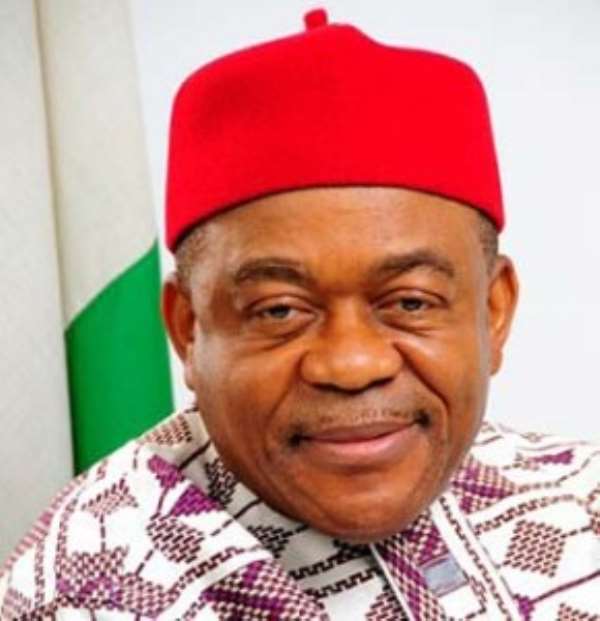 Abia State Government, Governor Theodore Orji
Governor Theodore Ahamefule Orji of Abia State and his cynical political violence against the man, who spent his hard-earned billions of naira to campaign for his emergence as governor in 2007, having served as the man's Chief Of Staff for eight years, when the man served as the governor of the state, is thoughtless and unscrupulous.
One of such junks that Gov. Orji and his drivel media gangsters circulate against Dr. Orji Uzor Kalu (popularly called OUK) was the freshly article titled 'Abia State Governor, Theodore Orji Lambasts Ex-Gov, Orji Kalu'. Lambast Kalu for What!
If at all that Dr. Kalu said that 'top government officials in Abia have been placed on a 'curse' by members of the Movement for the Actualization of the Sovereign State of Biafra, MASSOB', he did not say this in the position of an uninformed person.
Even, it might not only be the MASSOB members that have cursed and are still cursing the government in Abia State, but the general public in the state, who have only been made to know the true meaning of the dividends of democracy in the dictionary, as they are yet to experience such dividends live, in the Gov. Orji's administration.
What our people have come to endure in Gov. Orji's government are multiple taxations, intimidation by security agents and gross dilapidated infrastructure that cut across all the areas in the state. Please, visit a place like Aba, and cry.
Why Kalu would be free from the purported curse that MASSOB laid on Gov. Orji and his hocus-pocus team, was that Kalu had since apologised to Ndi-Abia for fully supporting in the emergence of T.A Orji as governor of our state.
Gov. Orji happens to be the highest gaffe that Abia State is yet to find an eraser; a man whose occupation is to occupy the media with make-belief stories of his mirage developmental strides in Abia State.
It gladdens the heart that such fearless but peaceful organisation like MASSOB is able to see the incessant lies of Gov. Orji administration and rebuffs them with the following words: 'ridiculous and untrue'.
The garrulous government officials were bent on misleading the general public that most roads in Aba, including Ngwa, had been transformed by the state government.
More groups and individuals will continue to assess the government of Gov. Orji and tell the world the true shambled situations that are on ground as they relate to lack of good governance and likely cast spell on the mischief-makers that parade themselves as Honourable public servants.
MASSOB has helped in exposing Gov. Orji's administration for the world to understand that Kalu whom Gov. Orji has been hounding was innocent and had no hand in the misapplication of governance in that state.
At least, MASSOB has been able to put the story straight that Gov. Orji's government operates mills of lies. This is how the government lied of 'Giving Aba a 'New Face': Abia State Government Set to Demolish 1800 Structures in Aba' reported in December 2012.
There is no doubt that the government in Abia State is under numerous curses, because you can only see a government that is so busy, but doing nothing, except in manufacturing lies and selling them to the public.
It will not be good to state here that Abia is the worst state in the world, in terms of infrastructure and development dearth. The 'curse' is driving Gov. Orji not to make any impact in the lives of our people, except that he gets overjoyed by watching our people languishing and by seeing our state as the most backward in Nigeria.
Please, how does a man who is not cursed behave? Can Gov. Orji henceforth prove to us that he is not cursed by swinging into good governance that our people have been bereft of?
Let OUK smile home; he has been vindicated. Unlike the early period of this government it sold lies to us that OUK was the one holding it down from giving us the Utopian leadership and we hated OUK for that, not knowing that it was Gov. Orji's method of giving a good dog a bad name to hang her.
Please, more curse!
Editor's Note:
Odimegwu Onwumere, a Poet/Writer, writes from Rivers State. Tel: +2348032552855. Email: [email protected]