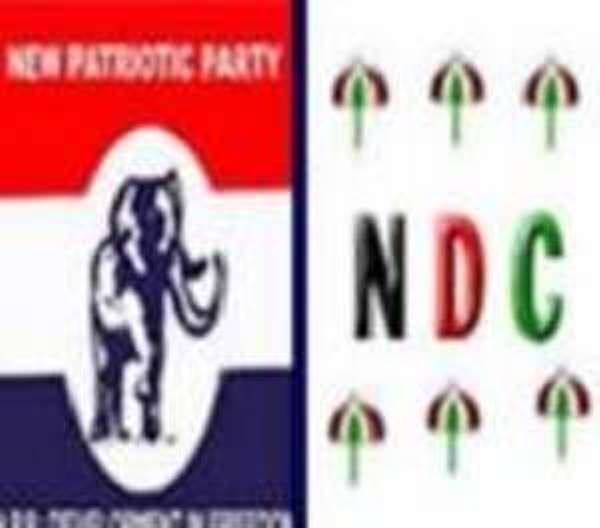 NPP and NDC flags
Officers of the two parties said suspension of radio broadcasts by 'Information Centres', avoiding to answer phone calls, wearing of party t-shirts and jubilation on the day of judgment and afterwards would go a long way to keep the peace of the area.
At a peace talk meeting at Kodie on Sunday, constituency chairmen of the parties, Odeneho Kwaku Appiah and Alhaji Osei Bosie, agreed to lead a moral suasion campaign for their members and supporters to follow suit.
Drinking bars across the district in the name of the peace and checking unruly behaviours would also be closed down.
Odeneho Kwaku Appiah, NPP chairman, in particular stated that it was important for party followers to be made to understand that Ghana is the only home for Ghanaians for which reason no one should allow his behaviour to destroy the peace.
'Whatever the outcome may be, let's accept it in good faith,' he urged and added that whichever party is pronounced the winner should not violate the peace of the nation as becoming a refugee comes with a baggage.
The NPP chairman asked members of his party to refrain from listening to social commentators and spin-doctors when the verdict is given.
Alhaji Osei Bosie, NDC Constituency chairman on his part, praised Nana Addo Dankwa Akufo-Addo, NPP 2012 presidential candidate, for choosing judicial process for his dispute of the presidential election.
He also lauded President John Mahama for his conduct and attitude toward the presidential petition.
According to him, peace is priceless and unquantifiable for which he called for it to be safeguarded at all times by all Ghanaians.
'Today, we are sending signals to the rest of Ghanaians that we are one people with ideological differences,' he stated.
Wilberforce Zangina, NCCE District Director for Afigya-Kwabre, lauded the efforts by the executive members of the two parties to keep the peace of the area.
In his view, the occasion showcased the display of beauty of democracy, underscoring the importance for every citizen to be a peace ambassador.
District Director of Education, Ignatius M. Der, called for the unity and peace shown by the two dominant parties to be strengthened.
According to him, it is palpably clear to the world that Ghana had passed the test of democracy which is the best form of governance in the 21 st century.
Kodie police station officer, Inspector J. K. Mensah, asked the people to be good and law-abiding citizens.
He said the supreme law that gave individuals the right to vote, had also vested the same right in the justices of the Supreme Court.
From Ernest Kofi Adu, Kodie