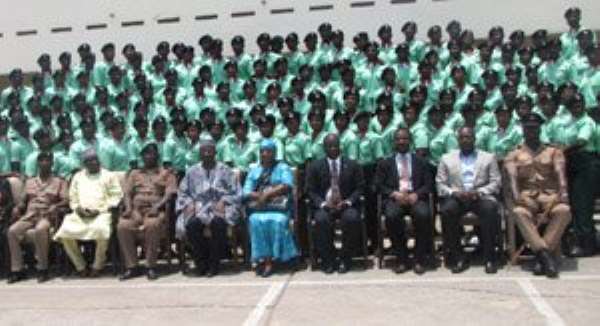 The paramedics in a group photograph with dignitaries
TWO hundred and thirty eight students have passed out under the National Ambulance Service Emergency Medical Technicians (EMT) programme from the Fire Academy and Training School in Accra after successfully undergoing training for a year.
The passing out of the new batch brings to 689, the number of emergency medical technicians.
The graduands are expected to take care of patients of automobile accidents, heart attacks, slips and falls, childbirth, gunshots wounds and many others which require immediate medical attention.
Deputy Minister of Health, Dr Alfred Sugri Tia, on the occasion of the passing out ceremony said government is committed to ensuring that good health delivery service was brought to the door step of every Ghanaian.
He said government aims to improve the quality of good health in order to maintain, secure and operate a state comprehensive emergency medical services system throughout Ghana.
According to him, the national ambulance service is supported to build its capacity to provide an effective and comprehensive pre-hospital treatment to care for every Ghanaian.
Furthermore, he stated that recent tragedies in the cities and in other parts of the country are caused by natural and man- made disasters thus the need for the nation to be prepared with adequate knowledge and a heightened level of awareness to prevent damages from life or property.
In addition, he commended the EMT team for their swift respond to the cargo air crash incident, and the Melcom disaster, both of which occurred in Accra recently.
Dr Tia encouraged them to always respond quickly and exhibit a high level of competence in their line of duty as the lives of people depended on them.
He thanked the Fire Academy and Training School (FATS), the National Ambulance Service (NAS) for their efforts in training the EMT.
He explained that the recruits, who constitute the sixth batch of EMT-Basics to pass out from the training school, would be posted to the various NAS stations to form a strong team, who would be relied upon to provide professional emergency care to the people of Ghana.
Dr Tia stated that the Ministry further recognizes the need to build a high level of preparedness in communities, with emphasis on equipping every household with adequate knowledge and heightened awareness, to minimize any damage to life or property should a disaster strike.
Eric Agbenohevi took the overall best award while Kafui Penti took Directors awards. Israel Mensah was awarded with best in academics and Anati Lawson took the best in foot drill award.
By Ophelia Darlene Quarshie