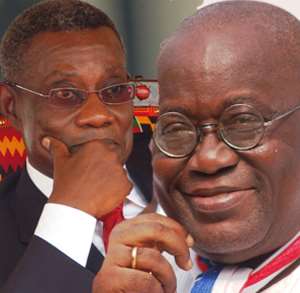 Date: August 30, 2013
Time: 10 a.m.
Venue: Peduase Lodge, Aburi
Invitees:
All former Heads of State, Prime Minister (s), Chairmen of Councils of State, Paa Grant, Dr J. B. Danquah and other members of the Big Six - E. Obetsebi Lamptey, Ebenezer Ako Adjei, Kwame Nkrumah, Edward Akuffo-Addo, William Ofori Atta.
Dr Kwame Nkrumah - Prime Minister/President, 1st Republic
General J. A. Ankrah - Chairman, National Liberation Council (1)
General A. A. Afrifa - Chairman, National Liberation Council (2)
Justice Akuffo Addo - President, 2nd Republic
Prof K. A. Busia - Prime Minister, 2nd Republic
(General) Kutu Acheampong - Chairman, National Redemption Council
General K. Akufo - Chairman, NRC/ Supreme Military Council
Flt Lt J. J. Rawlings - Chairman, AFRC/PNDC; Prez. 4th Republic
Dr Hilla Limann - President, 3rd Republic
John Agyekum Kufour - Prez. 4th Republic
Prof John Atta Mills - Prez. 4th Republic
Former Chairmen of Councils of State - William Ofori Atta, Prof Alex Kwapong, Prof Adzei-Bekoe, Prof Kofi Awonoor, etc.
The only female to this august meeting is Mrs. Theodosia Salome Oko, the designer of Ghana's national flag.
AGENDA
1. Discuss August 29 Supreme Court Judgement.
2. Review Public Holidays ( Past and Present). (Other National Days including August 29, which should not necessarily be declared as holidays).
3. National Motto - "Freedom and Justice" (To maintain or change).
4. National Anthem (To maintain or change).
5. State of the Economy and the poor.
6. A new national Honours List (Motion to be tabled by Mrs Theodosia Oko).
7. Any other matters.
The chairman for the meeting will be chosen when the members meet. It is highly believed that Mr. William Ofori Atta, popularly called "Paa Willie" will be elected to chair this memorable and momentous meeting. Paa was the Chair of the 3rd. Republican Council of State.
Mr. Ako Adjei is to be the secretary. He could have been the Secretary of the United Gold Coast Convention (UGCC) but rather recommended Kwame Nkrumah, who he had met when they were students at the University of Pennsylvania in USA.
* The media would not be allowed in but a communique would be released at the end of the meeting.
* There will be a Dinner/Dance in the evening at the State House Banquet Hall. Participants at the meeting will attend the evening's programme with their spouses. Top political leaders including Mr John Mahama and Nana Akuffo Addo and members of the Diplomatic Corps will also attend.
TSOO BOI !!!