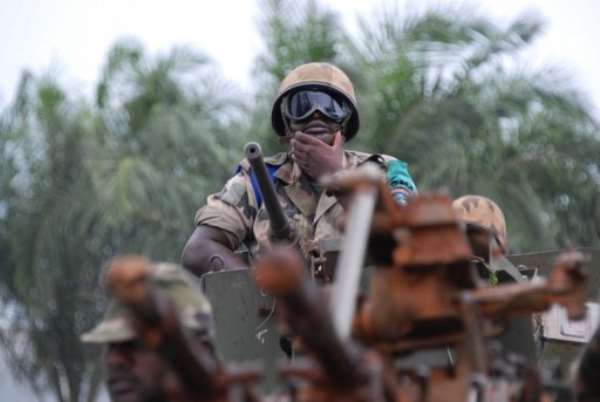 A member of the Multinational Force of Central Africa (FOMAC) patrols on July 20, 2013 in Bangui. By Xavier Bourgois (AFP/File)
BANGUI, Central African Republic (AFP) - Sustained gunfire and looting broke out overnight in the capital of the Central African Republic, causing many people to flee their homes, residents told AFP on Tuesday.
Nobody could say who was behind the shooting, which erupted in the Boy-Rabe district of Bangui, prompting residents to seek refuge in various hospitals and parishes of the city.
Witnesses said that many homes were looted and then set ablaze, but no details of casualties from the night of violence were available around midday.
Last week, an operation carried out by armed supporters of a newly installed regime to disarm supporters of ousted president Francois Bozize resulted in at least 11 deaths in the Boy-Rabe and Boeing districts, hospital sources said. About 35 people were injured.
Boy-Rabe is considered a stronghold of backers of General Bozize, who seized power in a 2003 coup and was overthrown last March 24 by a rebel coalition led by Michel Djotodia, who was sworn into office as new president on August 18.
Meanwhile, road haulage drivers who ply the highway between Bangui and the port of Douala in neighbouring Cameroon said Tuesday that they have been on strike for a week in protest against extortion by men of the Seleka rebel alliance that put Djotodia in power.
Truck drivers are regularly victims of "murders, bodily injuries, racketeering, extortion of funds and theft of fuel," a source in the Group of Centrafrican Transporters (GTC) told AFP.
The road from Douala is the main commercial route to Bangui and accounts for transport of almost all the produce imported by the deeply poor, landlocked nation.
Since Bozize was ousted, after twice being elected into office following his coup, insecurity has prevailed in the country, where former rebel fighters are accused of assaulting and terrorising civilians.
An African peacekeeping force has begun deploying in Bangui, but no peacekeepers in the force that will eventually number 2,500 soldiers and 1,000 police officers are stationed outside of the capital, in regions that have long been chronically unstable.
A recent UN report said that Djotodia's Seleka fighters, many of whom have not been paid in months, were to blame for much of the chaos and that the group's hierarchy was doing little to stop them.