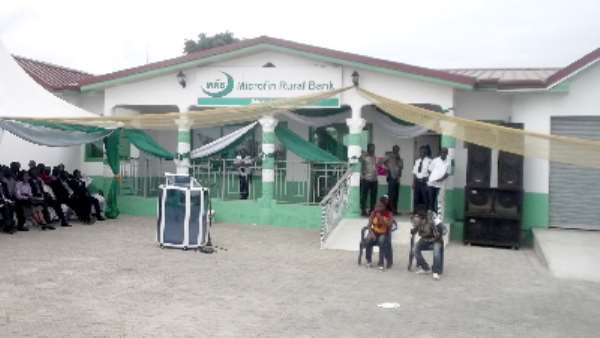 The Gomoa Pomadze Microfin Rural Bank has been inaugurated with a call  on the management  to introduce innovative  products and services to satisfy the needs of their customers.
Emmanuel Yaw Sarpong, the acting Managing Director of Apex Bank, also advised the management of rural banks to address customer service issues through regular staff training to enhance efficiency.
He said  the  Apex Bank had reduced the interest rates on lending to the rural and community banks  from  20 per cent  to 15 per cent.
The decision was to give advantage to the rural banks to access more loan facilities for  on-lending to their deserving borrowers.
He said the Apex bank had developed a  new strategic plan for the period of 2014-2018 to provide efficient services to improve customer satisfaction.
The strategic plan would create  a platform for rural and community banks (RCBs) in which the unbanked and under-banked may  get  the opportunity to participate in efficient banking services.
According to Mr Sarpong, the new directive of Apex Bank would certainly include an enhanced information communication technology (ICT) platform to support RCBs and a multi-channel delivery system.
Mr Daniel  Ohene  K. Owusu, Assistant Director of Bank of Ghana (BoG), said the rural and community banks concept was initiated and promoted in 1976, to provide  banking services to rural population.
He said the concept had caught on well and given birth to 139 rural and community banks with more than 700 branches nationwide
He, therefore, urged the management of Microfin Rural Bank to adopt far-reaching internal control systems to safeguard assets and fraudsters.
He asked the   management to tread cautiously into new areas of operations to reduce increase in money laundering and financing of terrorism.
He said the BoG was committed to ensuring a vibrant and sustainable banking system to harness economic potentials of the country.
Mr Victor Antwi, Board Chairman of the bank,   said the Microfin Rural Bank, being the  first non-governmental financial organisation turned into a bank, had disbursed over GH¢670,000 to more than 2000 women groups.
He called on the district assemblies and traditional councils in the Gomoa District and others to patronise the services of the bank.
By Fiifi Mensah/Daily Graphic/Ghana