Flight attendant sex and style through the decades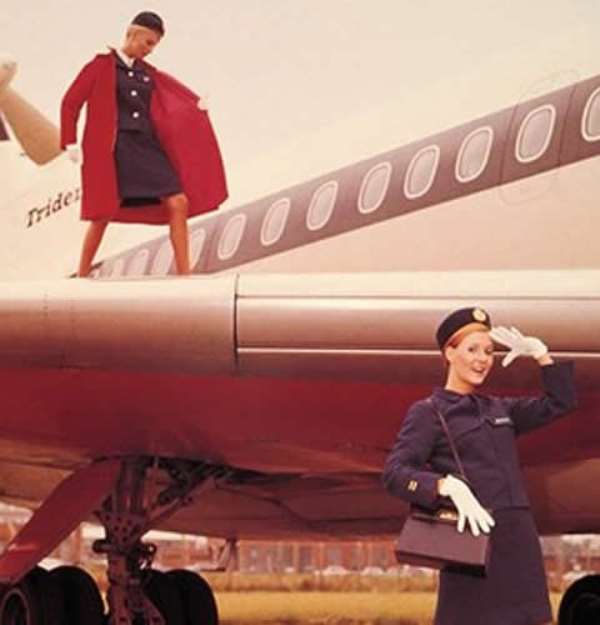 Wing wear Slightly more classic tailoring from British European Airways staff in the 1960s. Clearly decorum went downhill from here.
Where did all the glamor go?
It's a common lament, the passing of the supposed glory days of air travel: when men were Mad Men, women were air hostesses in short, chic uniforms and the latter served the former full four-course meals, complete with proper cutlery and glassware, mid-air.
Now flying -- for those who can't afford first class, anyway -- has been reduced to what Michael O'Leary, boss of Ryanair, proclaims it's always been: getting about in a "big bus with wings."
Just when we were coming to terms with the disillusionment, along comes a book that positively wallows in that better-dressed air travel world of yore.
"Airline: Style at 30,000 feet," by Keith Lovegrove, picks over every aspect of flying culture, from dress through advertising, cuisine and interior design, from early days of commercial flight, in the 1920s, on.
One thing that becomes clear is how sexualized an environment this "parallel universe" in the air, as the book puts it, was -- at least in the long and increasingly liberated decades after World War II.
One shot, among those from the book selected in the gallery above, shows the shorts that Southwest Airlines wedges its stewardesses into in the 1970s.
No doubt some would call that sexualized environment just sexist.
Southwest's male bosses said at the time: "The girls must be able to wear kinky leather boots and hot pants or they don't get the job."
Either way, one of those 1970s flights would be a shock to anyone who's taken a Ryanair flight recently.
Flying used to be so sexy.
Back in the days when passengers had to walk across the tarmac to board a plane, they were greeted by "air hostesses" arrayed in knee-high boots, short skirts and white gloves.
In 1971, the now-defunct U.S.-based National Airlines ran a saucy and suggestive ad that featured a flight attendant named Cheryl, smiling affably and accompanied by the seductive slogan, "I'm Cheryl. Fly me."
There was another one, this time with Jo. Business reportedly jumped 23 percent, despite accusations of sexism.
Along with National Airlines' advertising campaign (American Airlines may have given them a run for their money), Eastern Airlines encouraged flirting with stewardesses by handing out little black books to male passengers for storing phone numbers.
Flight attendants were trained at "charm farms" to maximize their feminine sex appeal and a book depicting the golden age of travel by two "adventurous" former flight attendants entitled "Coffee, Tea or Me?" further stoked the flames of the fantasy of flying.
The airline industry has since gone through some major overhauls.
Airlines have adopted a gender-neutral professionalism, austere security measures and the ever-widening gaps between the luxury seat and the cramped budget one.
Societal norms have changed for the better -- it's hard to imagine some of the outfits pictured here ever being approved.
Still, it's interesting to recall the fashion ethos of yesteryear