JUSSAG to review strike decision today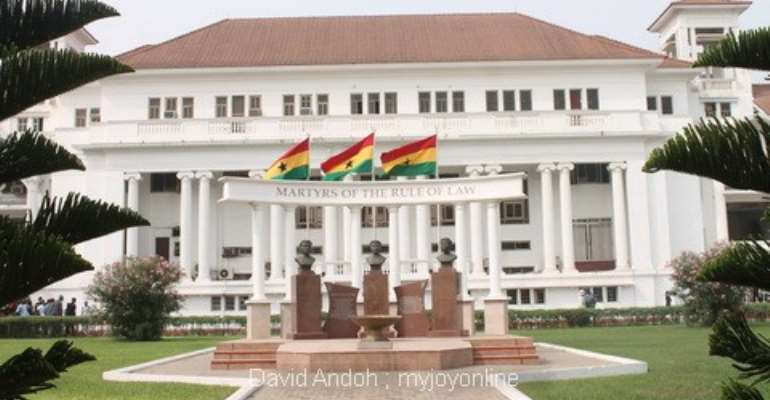 Executive of Judicial Services Staff Association of Ghana (JUSSAG) are set to meet later today, Monday, August 26, to review a decision to embark on an industrial action slated for Tuesday August 27, 2013.
President of the Association, Francis Brakwa, said the decision to review their planned strike follows numerous appeals from institutions and individuals for them to call off the threat to strike, in order not to hinder a final ruling on the eight-month long 2012 election petition case before the Supreme Court.
Although there have been suggestions that the Judges can go ahead with a ruling on Thursday August 29, without the judicial service staff, Mr Brakwa strongly denounced that speculation.
"Anyone who says that is talking out of ignorance", Mr. Brakwa told Bernard Nasara Saibu, co-host of the Super Morning Show on Joy FM, Monday. He was certain that no Supreme Court judge would sit when the judicial service staff are on strike.
He said although the decision to go on strike two days before the judgement day is not to impede the much awaited final ruling, their demands are critical because it covers every JUSSAG member.
According to him, government has neglected numerous calls for the payment of their clothing allowance - one of five demands JUSSAG is making - since last year.
Although government released monies last Thursday August 22 for the payment of maintenance, fuel, overtime and transfer allowances, Mr Brakwa said that was not enough.
He explained that those four allowances covered only some category of staff but the clothing allowance covered all JUSSAG members - indicating that perhaps government should have released funds for its payment instead.
Mr Brakwa admitted that the timing may not be right with regard to the Supreme Court ruling but said, this was the right time.
He said Courts across the country were in the vacation period where ordinarily their planned strike would not have affected judicial activities.
He said it was purely a coincidental that their impending strike would clash with the date for the Supreme Court ruling.