Election Petition Has Not Created Tension -Kufuor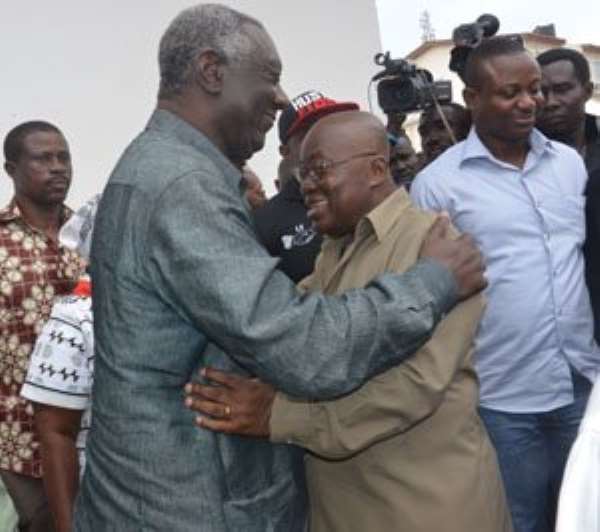 Former Prez. Kufuor, embraze Nana Akufo Addo
FORMER PRESIDENT John Agyekum Kufuor has downplayed claims that the presidential election petition challenging the Electoral Commission's declaration of
John Mahama as winner of the 2012 presidential election has exacerbated political tensions in the country.
He said, passionate political discourse had become a part of Ghana's democratic culture and that should be seen as a positive development.
Speaking to Metro TV on Wednesday, the former Ghanaian leader expressed confidence that the nation will remain peaceful after the ruling on the petition by the panel of nine justices adjudicating the matter at the Supreme Court.
The Court has set Thursday, August 29, 2013, as
"Judgment Day" in the petition which was filed by three leading members of the New Patriotic Party (NPP) - Nana Akufo-Addo, 2012 presidential candidate, his running mate, Dr. Mahamadu Bawumia and Jake Otanka Obetsebi-Lamptey, national chairman.
Mr. Kufuor however, appealed to the petitioners and respondents to accept whatever judgment the justices will announce and hope for another opportunity to contest for the presidency in the 2016 general elections.
Meanwhile, the former president has re-echoed his call for prayers for the justices in order for them to give a fair judgment.
'What I prefer is we should all pray for the justices
so that there will be peace in Ghana after the court verdict,' former President Kufuor stated.