Reserves to help tame inflation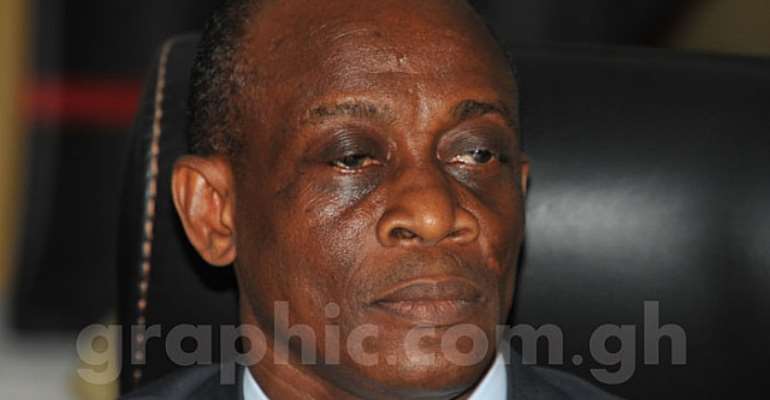 The country's external reserves rose from $4.9 billion in July this year to $5.7 billion as of August 20, 2013, at the back of inflows from COCOBOD syndicated loans and the US$1 billion proceeds for infrastructural development.
The shored up external reserves can support the country's imports for more than three months, according to the Bank of Ghana. Before this time, the reserves could only pay for 2.7 months of imports for the country.
The low reserve position which could be caused by low imports or higher demand for foreign goods that translates into higher exports had in the recent past led to the depreciation of the local currency, the cedi.
The result has been that dealers in imported products have to immediately increase their prices to meet their next orders, thus, resulting in domestic inflation, the rate at which the general price level of goods and services change over time.
Between January and June 2013, the Ghana cedi cumulatively depreciated by 3.4 per cent against the US dollar, compared to a depreciation of 17.2 per cent during the same period in 2012.
Inflation for July, 2013 was 11.8 per cent, up from 10.6 per cent in June and 8.8 per cent in January.
Managers of the economy largely put the rise in inflation to petroleum price adjustments, demand pressures and seasonal factors.
Except seasonal factors which affect the food component of the inflation index, the demand pressures feed into the external reserves position and hence the impact of the depreciation of the cedi.
Food inflation was 6.4 per cent in June, 2013 from 5.5 per cent in March, 2013. Non-food inflation edged up to 14.0 per cent from 13.2 per cent in March, 2013.
The reconstituted CPI basket puts headline inflation at 11.4 per cent for June, 2013, compared to 10.6 per cent in March.
Analysts say the inflows from the syndicated loan and proceeds from the eurobond should, therefore, help strengthen the cedi in the medium term and help reverse the inflationary pressures towards the end of the year.
Following the relative stability of the exchange rate and the onset of the food harvest season, inflation is set to ease on both sides of the basket.
At the last press briefing, the Government Statistician, Dr Philomena Nyarko, said with the oncoming harvest season, food inflation was likely to fall while other factors could push non food inflation up.
However, a stable currency could help tame the misbehaviour of other factors.
Combined pressures from both the food and non food component of inflation have pushed inflation up over the last few months and now analysts believe the two would again combine to tame the rising rate of prices within the economy.
By Jessica Acheampong/Daily Graphic/Ghana