August 24, 2013
|
General News
Kantinka Sir Dr Kwame Donkoh Fordwor - 80 years on Aug 29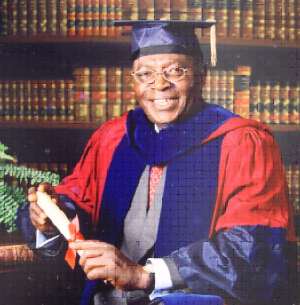 In 1973, Ghana, under the then head of state, General Ignatius Kutu Acheampong, took a decision not to honour its external debts under a policy which was popularly known as 'Yentua'.
The government had taken that decision because it felt the external debt which stood at about Ȼ600million was contracted under tainted and vitiated corrupt deals.
It therefore initiated the discounted cash flow methodology in 1974, which was to help it settle on the terms Ghana should choose out of two options that were offered by Western donor countries.
As a member of the government's economic team, the move represented one of the high points of the work of 'Kantinka', Dr Sir Kwame Donkoh Fordwor who had just been appointed on January 16, 1974 as a Special Assistant to the Head of State on Finance; a position that made him the de facto Commissioner of Finance.
Other members of the economic team included: Amon Neequaye, who was Governor of the Bank of Ghana, Dr S.K.B. Asante and a few others.
Birth
Dr Fordwor was born in Kumasi on August 29, 1933 to Kofi Duro and Yaa Amoakowaa. His father was a lead manager in charge of carpentry at the Obuasi Mines and later Bibiani Mines and also took to gold winning. His mother engaged in various types of jobs, including farming, production charcoal, and sale of cooked food and wax cloth.
He was the sixth child of his parents. two of his elder siblings had died and since there was the traditional belief that the same child was reincarnating, some marks were cut on his body, made to wear dreadlocks, did not eat snails and was named Donkoh, meaning slave. This was all done in fulfilment of the traditional belief of making life on earth difficult for him so that he would be discouraged from reincarnating, should he die.
Education
Young Fordwor lived with an uncle, Kwadwo Ansah, who was a teacher at Bekwai in Ashanti but later moved to Kumasi in 1944 to begin school at St. Joseph,  Ashanti New Town.
Bare-footed, he commuted to school at Breman and Ashanti New Town in Kumasi daily, and collected leaves on his way to school to sell to women who used the leaves to wrap fried plantain and cooked yam.
In December 1950, he obtained a distinction and got a scholarship to study at St Augustine's College, Cape Coast. 'As a school bell boy in 1953, I had privileges and studied on my own. One senior introduced me to a drug, which when mixed with coffee, would help me stay awake and learn but I got insomnia and couldn't sleep', Dr Fordwor told the Daily Graphic.
'I was taken to Kumasi to see a doctor and in 1954 my principal, who felt I was a good student, arranged for my examination papers to be transferred to Prempeh College in Kumasi for me to write the exams there.'
He graduated in 1954 with grade one and skipped sixth form because  his mother didn't want him to go back to St Augustine's. He obtained scholarship in 1956 from United Africa Company (UAC), now Unilever, to pursue a Bachelor of Commerce course at the Kumasi College of Technology (now Kwame Nkrumah University of Science and Technology).
'I had wanted to read science but my invigilator, Dr Marshall, said Ghana was going to be independent and did not need scientists but administrators, 'so why don't you do Bachelor of Commerce?' '
'London cancelled the writing of B.Com exams outside of London in my final year so I settled for accounting and obtained the Final Certificate of Chartered Association of Accountants (ACCA), England and Wales in 1959,' he narrated.
Dr Donkoh Fordwor and the Pope John Paul IIEarly working life
Dr Fordwor said on Saturdays he visited the Kumasi Turf Club, where he assisted with mathematical calculations on horse racing and earned two pounds every weekend. 'Life for me at the university was the best period of my life because money was coming from all corners so I could visit Hotel de Kingsway, order for a bottle of beer and a bowl of rice'.
His first career job was with UAC (now Unilever) where he was an accountant with various subsidiaries of the company from January 1960 to August 1963, working in Kumasi, Sekondi and Accra.
In October 1960, he married his wife Cecilia, with whom he has six children - two boys and four girls, and 16 grandchildren.
Work at Ministry of Finance
Following Ghana's decision not to honour the debts, a meeting had been arranged by the World Bank and the International Monetary Fund in Rome in 1974 to find an answer to the impasse.
After some protracted negotiations, the donors offered two options: an immediate payment of US$10million, an interest rate of two per cent, a grace period of 10years and a repayment period of 40years; or no down payment but interest at 2.5per cent with the grace and repayment periods being the same as the first option.
Sharing his perspectives with the Daily Graphic in an interview at his residence at Nhyiaeso in Kumasi recently, Dr Donkoh Fordwor said he turned out to be the odd man as a deputy leader of the nine-member delegation that represented Ghana at the meeting.
This was because the rest favoured the first option because apart from Indonesia, no country had 2.5per cent, and choosing of the first option meant accepting two per cent which would have been a credit and a first for Ghana.
He explained that the leader of the delegation, Brigadier Ashley Lassen, had gone to Milan at the crucial time and the lot fell on him as deputy leader to ask for an adjournment.
'That enabled me to inform my colleagues how on a net present value basis, option one was most inferior compared to option two'.
He explained when the leader, Brigadier Lassen came, he endorsed the position he had taken and so the delegation returned to Ghana with flying colours, making it one of the high points of his work at the Ministry of Finance.
Postgraduate studiesAsantehene, Otumfuo Osei Tutu II confers the title 'Kantinka' on Dr Donkoh Fordwor
In 1963 UAC offered to transfer him to London but he refused the transfer since he had gained admission for postgraduate studies at University of Pennsylvania in Philadephia.
In 1965, he was awarded an MBA (Finance) by Wharton Graduate School of Business and MA (Pure Economics) by the Graduate School of Arts and Sciences. His thesis for the MBA was on 'The impact of Independence on Ghana's Balance of Payment', while his research paper for the MA was on 'An evaluation of statistics in Ghana's Balance of Payment.'
'My strong background in mathematics opened the door for me to combine an MA and MBA and so when I finished, I needed just 12 more credits to qualify for the PhD. I passed the PhD preliminary examination in January 1966 and completed my dissertation - 'An evaluation of Ghanaian state-owned industrial projects' - in December 1970 and was awarded a PhD in Pure Economics in May 1971'.
Life after PhD
Whilst pursuing postgraduate studies, Dr Fordwor joined IFC (an affiliate of the World Bank), in Washington DC as an Investment Officer for South East Asia.
He became a senior Investment Officer after three years and left the IFC as Divisional Chief in March 1971 to become the Executive Chairman of the Capital Investments Board in Ghana.
He said Mr J.H. Mensah, who had praised his laurels during his inauguration at the Capital Investments Board, together with Dr K.A. Busia, urged him not to leave Ghana and go back to the IFC after the January 13, 1972 coup.
'When I stayed on, the economics gradually shifted from the Bank of Ghana to the Capital Investments Board so on January 16, 1974, I was appointed Special Assistant to the Head of State on Finance, a position that made me the de facto Commissioner of Finance'.
'During my time, Ghana did not borrow a penny in those years to finance many projects such as the Kpong Dam, Police Hospital, Benso Oil Palm Plantation (BOPP) and the Asutsuare Sugar Factory', he said.
In May 1976, he was elected as the President of the African Development Bank, Abidjan and in three years, he succeeded in raising the capital of the bank from US$ 200 million to US$ 6.3 billion, with the admission of non-Africans into the bank. Algeria and Nigeria accused him of destroying the African character of the bank by opening up to non-Africans and he agreed to step down in May 1980. The capital of the bank today stands at US$ 100 billion.
From 1980 to 1985, he worked for the government of Sierra Leone on the Kimberlite Diamond Project. From 1986 to 1992, he was the Chairman of the Southern Cross Mining Limited, Konongo, a gold mining project that he formed with some Australian friends. He is currently the chairman of Kas Products Limited, which deals in the production of quarry aggregates.
Kantinka is a part-time chairman of the Sickle Cell Foundation of Ghana, Quality Life Assurance Company Limited and Vice-chairman of the Board of Trustees, Catholic University College of Ghana.  A staunch Catholic, he is also a past Supreme Knight of Knights and Ladies of Marshall.
Political philosophy
'I am a Christian democrat and belong to the Danquah-Busia tradition'. Dr Fordwor told the Daily Graphic he was personally introduced to Dr Busia and Danquah and so he had the opportunity to listen to their philosophy which formed the UP out of which the NPP grew.
'I am a big supporter of the NPP. From 1994 to 1998 I decided to take the NPP and grow it in Kumasi. When Professor Adu Boahen did not win 1992, we wrote 'The Stolen Verdict'.
He served as chairman of the Ghana National Petroleum Corporation (GNPC) from October 2001 to April 2002.
Dr Kwame Donkoh Fordwor with children and grandchildrenBooks authored
He is the author of three books: The African Development Bank: Problems of International Cooperation (Pergamon) 1981; Swimming Upstream (Prentice) 1998; and
The Danquah-Busia Tradition in the Politics of Ghana (Unimax MacMillan) 2010.
He is also the author of numerous articles and monographs in finance and economics, accounting, management, religion, government, politics and sociology.
Awards
The quality of his performance has earned for him many awards among which are the Knighthood of St Gregory the Great, easily one of the highest papal accolades of chivalry in the Catholic Church, and the traditional accolade of Kantinka; a very rare title of nobility conferred on him by Otumfuo, the Asantehene.
He has been a Fellow of the Chartered Association of Certified Accountants since 1980. He is also a Fellow of Ghana Academy of Arts and Sciences. He was commissioned a Colonel of the State of Kentucky; USA on July 8, 2003 for his strength of character, leadership and dedication to the welfare of others.
Present lifestyle
Looking healthy at age 79, Dr Fordwor said his hobbies included walking, swimming, reading and classical music. 'I'm no longer playing golf these days and no longer walking too but I wake up 5:30am to do my writings; take a quick lunch at 12 noon, go the office at 2pm and get back to the house at 7pm. I still drink my black label whisky. With luck, age is catching up and I'm looking forward to my 80th birthday on August 29.'
Occasionally leaving his seat during the interview with the Daily Graphic, Dr Fordwor tapped the keyboard and clicked the mouse of the computer in his study to display photographs and documents on his achievements.
By Enoch Darfah Frimpong/Daily Graphic/Ghana