Stillbirths still high -4709 cases recorded in three teaching hospitals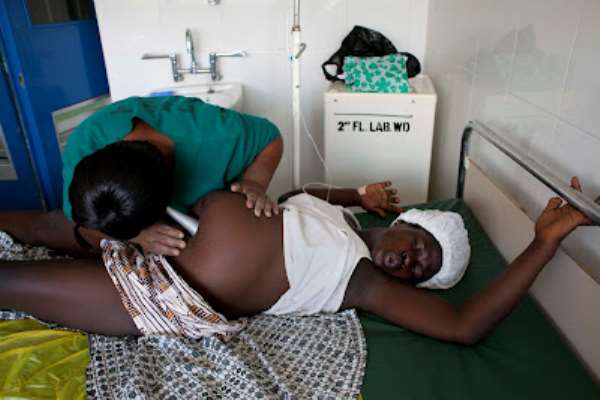 The three major teaching hospitals in Ghana recorded 4709 stillbirths in the last three and half years. They are the Korle-Bu, the Komfo Anokye and the Tamale Teaching hospitals.
A stillbirth refers to the situation where a baby is born without any sign of life or at the time of its birth there was no heart beat.
The Korle-Bu Teaching Hospital recorded 523 stillbirths in 2010; 580 in 2012 compared to 568 in 2011.
The figures for the first half of 2013 indicate that there have been 128 stillbirths during that period, compared to 153 recorded in the same period in 2012.
The situation is not different from what pertains at the Komfo Anokye Teaching Hospital (KATH), in Kumasi where the Obstetrics and Gynaecology Department recorded 1269 cases between 2010 and 2012, reports George Ernest Asare.
The Department also recorded 234 cases between January and June, this year, bringing the total to 1503 cases between 2010 and the first half of 2013.
The Business Manager  and Health Services Administrator of  Obstetrics and Gynaenacology of the KATH,  Mr Tweneboa Jnr, said in 2010, 492 stillbirths were recorded and decreased to 352 in 2011, but increased to 425 in 2012.
From Tamale, Vincent Amenuveve also reports that the Tamale Teaching Hospital in 2010, recorded 391 cases of stillbirths and in 2011, it registered 402 cases, while in 2012 it recorded 413.
Two hundred and one cases were recorded during the first half of this year.
Speaking about the Korle Bu situation, Prof Samuel A. Obed, the Head of the Obstetrics and Gynaecology Department of the Korle-Bu Teaching Hospital, said 'it is too many lives lost, even if it is just one death. Every pregnant woman who goes the full term would want to go home with a baby.'
Prof Obed explained that there were two types of stillbirths — macerated and fresh.
The macerated stillbirth refers to when a baby dies more than 24 hours before delivery, and this could be due to conditions before the onset of labour, while fresh stillbirth is when a baby dies less than 24 hours before delivery. This could be due to conditions during labour.
According to Prof Obed, the department had put in place a number of measures to forestall the situation.
One of the causes of stillbirth is excessive bleeding and Prof. Obed said the department had, at the beginning of the year, established a blood bank and so did not have to rely on the hospital's central bank. This he said was unique as it was not the case in other hospitals in the country and across West Africa.
Other major causes of stillbirth are hypertensive disorders in pregnancy and other medical conditions in pregnancy such as diabetes and anaemia.
'Unfortunately, diabetes in pregnancy is increasing, which is very worrying, just like hypertension,' he said.
Consequently, he said, the department was collaborating with physician specialists at the Department of Medicine to have joint clinics to see pregnant women with hypertension, diabetes, cardiac and kidney problems, instead of referring patients to them at the Department of Medicine.
He expressed the hope that with that joint clinic arrangement, his department would be able to manage pregnant women and other factors leading to stillbirth could be controlled.
He said it was important for women to be educated on the need to report early to a health facility when they got pregnant, because when they reported too late when the disease had progressed the outcome might not be good.
Additionally, Prof Obed said his department was looking at seeing women before they became pregnant, a practice known as pre-pregnancy clinic.
That, he said, was to make sure that the woman was stable and optimise her condition before she became pregnant.
However, he said, one challenge militating against the pre-pregnancy clinic was the lack of facilities.
Prof Obed explained that the department had a reproductive health centre for family planning and cervical cancer screening.
He said the building which was supposed to be a four-storey had only the ground floor completed and appealed to individuals and organisations for support in order to at least add one floor to take care of the pre-pregnancy clinic.
The department was also interested in operating an adolescent clinic to provide young people with information on their sexual and reproductive health, he said.
Another challenge facing the maternity block, Prof Obed said, had to do with operating theatres.
Currently, he said, the block had three operating theatres but only one was functioning due to the lack of anaesthetists, nurses and logistics.
If all operating theatres were functioning, it would make it easier for women whose babies were at risk of dying to have caesarean section.
'What we have now is queuing for caesarean section, a practice which may have dire consequences,' Prof Obed said.
By Rebecca Kwei/The Mirror/Ghana