Two Bodies to clean outdoor advertising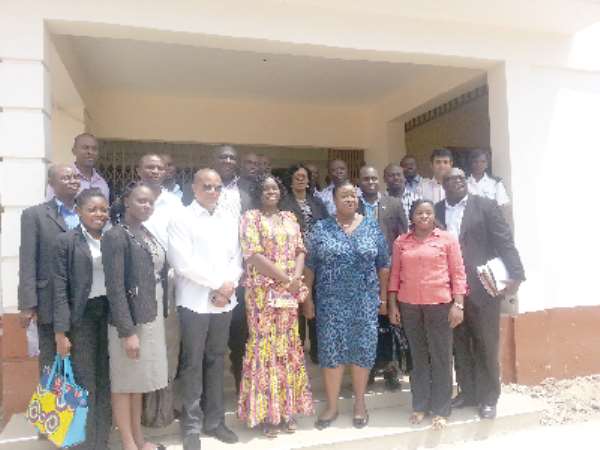 The Advertising Association of Ghana (AAG), the umbrella body of the country's advertisers, has expressed interest in joining forces with the La Dadekotopon Municipal Assembly (LADMA) to sanitise outdoor advertising in the municipality.
The association has also pledged to mount billboards/signage of the assembly at all boundaries of the assembly to make it more visible.
The commitment by AAG formed part of the highlights of a meeting between the two bodies yesterday to explore areas of interest and co-operation.
LADMA is among the 46 newly created municipal and district assemblies inaugurated last year.  It was carved out of the Accra Metropolitan Assembly (AMA).
The AAG pledged to be the assembly's development partner and to enforce standards for billboards and signage.
Billboards are perhaps the most popular form of outdoor advertising in the country.But their indiscriminate mounting has become a blot on some parts of the country's landscape.
In May, last year, many billboards in Accra were toppled in a storm, following which the public asked the Accra Metropolitan Assembly (AMA) and the AAG to re-examine the specifications for constructing billboards to ensure public safety.
That situation, Mr Francis Dadzie, Executive Director of the AAG, said had not changed much because officials of some assemblies seem to be in a hurry to issue permits for billboards and signage.
'We have situations where when it rains, signs are falling, and people are cutting down trees to put up billboards. We want to help the assembly to enforce the standards to protect the environment,' he said.
'There is a professional association, we have developed standards. The standards have been gazetted and we are recognised by the laws of this country. If we take any assembly on, it is an issue, but this is a young assembly so we have to build the assembly together,' he said.
The Municipal Chief Executive (MCE), Ms Rita Odoley Sowah, promised to work with AAG to make the assembly vibrant and development-oriented.
She cautioned residents of the municipality against the unauthorised placement of kiosks.
The President of the AAG, Mrs Norkor Duah, reiterated the association's support for the MCE, adding, 'We'll help you with the boundary signs and make sure that your boundaries are clearly defined. When it comes to revenue, we'll ensure that together we work on a plan.'
By Seth J. Bokpe/Daily Graphic/Ghana