President Mahama and team on retreat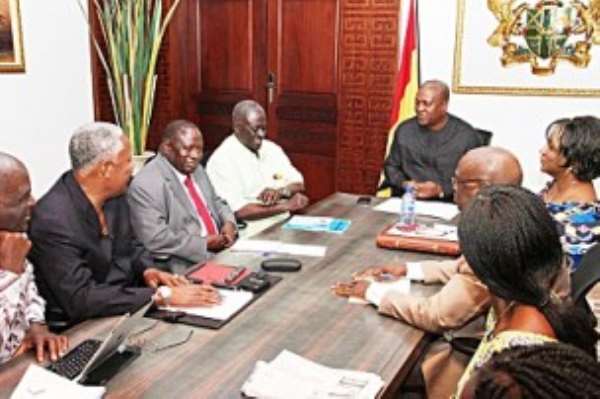 The President, Mr John Dramani Mahama and his team will begin a two-day retreat today at the Peduase Lodge.
The team which includes the Vice-President, Mr Kwesi Bekoe Amissah-Arthur, the Chief of Staff, Mr Prosper Douglas Bani, ministers of state and their deputies, as well as presidential staffers, will review the country's economic performance and come out with measures to improve the economic situation.
A Deputy Minister of Information and Media Relations, Mr Ibrahim Murtala Muhammed, told journalists at the Flagstaff House yesterday that the President and his team would also look at the policy interventions introduced this year to address the economic challenges.
He mentioned the huge budget deficit, which was occasioned by the reduction in donor budget support as one of the key issues to be discussed at the retreat.
Besides, Mr Muhammed said, the retreat would serve as a curtain raiser for the drawing up of the 2014 budget, as all the heads of the respective ministries, departments and agencies (MDAs) would be given the chance to outline their challenges in the implementation of the 2013 budget.
He said the objective was to ensure that the MDAs did not spend beyond the budget as occurred in 2012.
The deputy minister said the President and his team would also do an overview of major contracts and commitments. For instance, he said, the increased wage bill relative to the implementation of the Single Spine Pay Policy (SSPP) would be discussed.
Speaking about the economy, Mr Muhammed said it was doing well despite some challenges, adding that ''the signals are very positive.'' He also said donor support to Ghana's budget dropped from more than 40 per cent to less than five per cent last year.
That, the deputy minister said, was because of the country's attainment of the middle-income status and the economic meltdown in most European countries.
He added that the government was pleased with the success of the social policy interventions such as the National Health Insurance Scheme (NHIS) that are meant to address the health and material needs of the people.
Mr Muhammed stressed that the government would not renege on its commitment to grow the economy and improve the lives of the people.
By Musah Yahaya Jafaru/Daily Graphic/Ghana