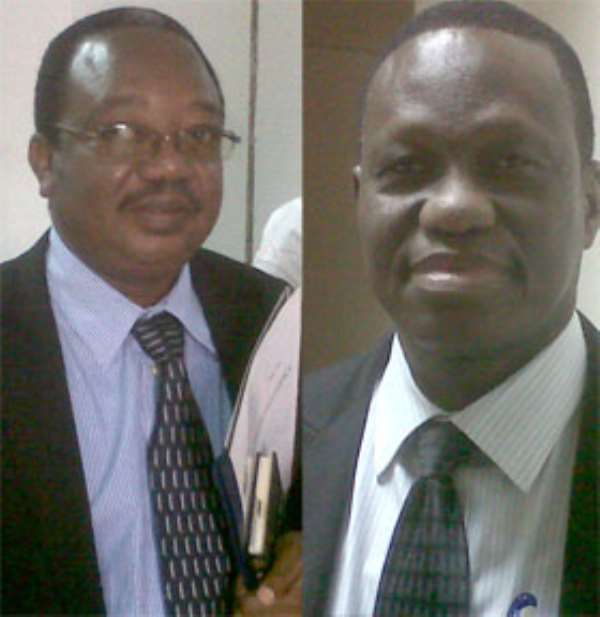 Daniel Amlalo and Samuel Anku
The Environmental Protection Agency (EPA) has warned Oil Marketing Companies (OMCs) to abide by the agency's regulations or face sanctions.
The agency noted that even though the level of compliance had increased considerably over the years, there were still a number of the OMCs/LPGMCs who were operating without recourse to the Environmental Assessment and Regulations, 1999 (LI 1652).
Samuel E. K. Anku, Deputy Executive Director of EPA, made this known at a sensitization workshop for Oil and LPG Marketing Companies (LPGMCs) on EPA Regulations, Compliance and Enforcement in Accra.
He said, 'The EPA over the years has appealed to industry to comply with the EA Regulations. Even though there had been some improvements in compliance, some operators still take the magnanimity of the agency to be a weakness'.
Mr. Anku said the agency had therefore declared this year as a compliance and enforcement year to enforce the provisions of LI 1652.
He said the agency would conduct a nation-wide compliance monitoring programme from 1st September 2013 intended to enforce compliance with the law.
'All companies found to be non-compliant will be closed down and appropriate legal sanctions including penalties applied,' Mr. Anku said.
He said protection of the environment was a shared responsibility and individual and corporate bodies had a role to play.
Mr. Anku urged the companies to obtain permits prior to commencement and also to re-new these permits when they expire.
This, he said, would enable them to conduct business without compromising the integrity of the environment.
Mr. Daniel Amlalo, Executive Director of EPA said the consumption of petroleum products, especially white products (petrol, diesel and kerosene) and LPG, had been on a steady rise over the past decade in the country.
Mr. Amlalo said increase in demand for these products had attracted huge investments into the downstream energy sector and resulted in the proliferation of retail outlets for both fuel service/filling stations and LPG refilling plants, especially in urban centers.
He said, 'This situation has resulted in a number of challenges including land-use conflict, leakages of underground storage tanks (USTs), pollution of groundwater and soil among others'.
Mr. Amlalo said the activities of retail outlets (filling stations/OMCs) had therefore generated concern among the general public in recent times.
He said these concerns had arisen as a result of improper siting due to non-acquisition of relevant documents prior to commencement of activities; non-compliance with permitting conditions and inadequate technical knowledge and skills on the part of persons employed to operate such facilities.
Mr. Amlalo said there were emerging issues relating to siting, pollution prevention, decommissioning of retail outlets among others which required the industry to be well-positioned and equipped to meet the challenges, especially the new OMCs.
He called on the companies to consider underground installation of the LPG refilling plants as an alternative to the current above ground installation, ultrasound testing and stratification of underground storage tanks (FUEL).
 By Cephas Larbi