We'll help maintain peace — Media managers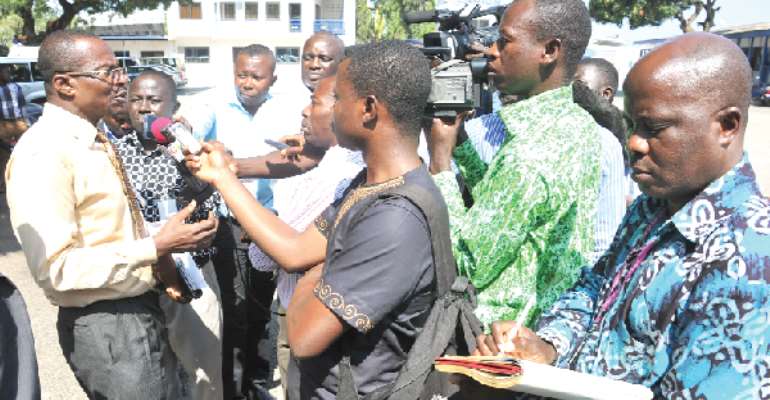 Players in the news media have resolved to sanitise the airwaves and avoid issues that are likely to create tension in the country now and after the Supreme Court has given its verdict on the presidential election petition on August 29, 2013.
Managers of the various electronic media pledged their commitment when they interacted with the National Security Co-ordinator, Lt Col Larry Gbevlo-Lartey, in his office in Accra yesterday.
They had met to find ways of ensuring peace and tranquillity in the aftermath of the verdict.
Briefing the media after the three-hour closed-door interaction with the security boss, the Chief Executive Officer of Metro TV, Mr Fadi Fatal, described the meeting as 'very productive', as key players in the industry pledged to rise up to the occasion and ensure that there was peace always.
'Whatever the Supreme Court verdict, we will rise to the occasion and ensure that there is always peace and security,' he stressed.
The Director-General of the Ghana Broadcasting Corporation, (GBC), Major Albert Don-Chebe (retd), said as media managers, 'we have resolved that we can manage our country now, during and after the Supreme Court ruling'.
He descried the meeting as a 'good interaction', as the security co-ordinator 'allowed us to run the show from the beginning to the end on how we could contribute to ensuring peace in the country'.
Major Don-Chebe said there had been a general consensus among the managers of media houses which the National Security Co-ordinator did not pronounce on.
He said the meeting agreed to consider Ghana as superceding any other consideration and 'minimise whatever we will do now and after the judgement'.
'What we agreed on is that we all know what is good for this great country, Ghana,' he said.
The President of the Ghana Journalists Association (GJA), Mr Affail Monney, said, 'We all agreed that we will not plunge the country into turmoil.'
He called on media practitioners to be circumspect in all their utterances and activities, adding,'Let's ensure that our actions do not inflame passions and plunge the country into a needless war.'
By Timothy Gobah/Daily Graphic/Ghana