Mariejose Educational Complex Holds 5th Anniversary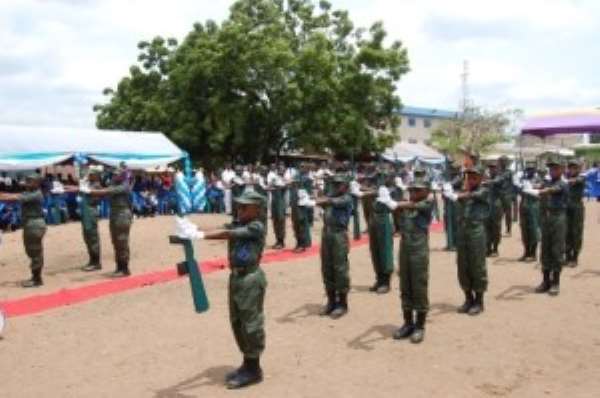 Mariejose Educational Complex, a private school at Zenu in the Kpone-Katamanso District (KKD), has celebrated its fifth anniversary and pre-school graduation, under the theme: 'Education, the Greatest Legacy'.
The ground for the colourful anniversary, which saw 63 pre-school pupils presented with certificates and promoted to Basic One, was charged with interesting drama performance under the theme for the celebration, and there were other interesting performances, including cadet display.
In an address read on behalf of the guest speaker, Mrs. Patty Assan, Education Directorate of KKD, Mr. Samuel Adu Gyamfi said education is an insurance premium any parent must endeavour to give to their children for a better future.
A well-educated person, he explained, is able to manage tension in society and furthermore, inculcates honesty and spirit of commitment in the dispatch of their duties.
Though informal education could be good, formal education, Mr. Adu Gyamfi elaborated, is more important and a must have to promote national development and international trade.
Consequently, he charged parents to spend more of their incomes in providing good and quality education for their wards.
The proprietor of the school, Nene Kabu Aberbleh II, on his part, was of the view that parents who were unable to spend on their children's education were being insensitive and inconsiderate to their children's future development.
Mentioning education as the best legacy for the child and nation, Nene Aberbleh II entreated parents to invest the chunk of their income in providing their children quality education which is expensive, though.
The proprietor entreated parents to, therefore, be prompt in the payment of their wards' school fees which could be used in the timely payment of the hardworking teaching and non-teaching staffs, the provision of learning materials and other bills.
The Assemblyman for the Sraha Electoral Area, Nii Laryea Kweistu, who was there to grace the occasion, used the opportunity to educate all present on the need to avoid utterances and deeds that could tear Ghana into pieces as the country awaits the Supreme Court's final judgment on the election petition.
He said, 'Our children need a peaceful Ghana to enjoy their education just as we also need that peace to enable us go on with our daily work. Let us all be ready to welcome the verdict of the court and with a unity of purpose, let us support whoever will be pronounced the victor to work hard to change the lot of everybody.'
Mariejose Educational Complex, which started with 50 kids in 2008, now has about 600 pupils in a beautiful learning environment and a well-equipped Information and Communication Technology (ICT) laboratory.