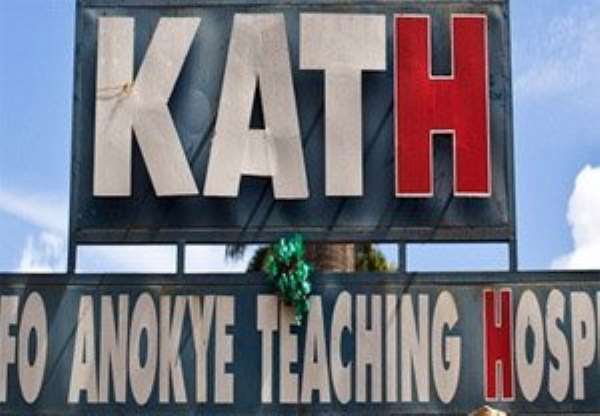 KATH
Despite population boom, the old 'GEE' blocks at the hospital are still the main admission wards of the medical facility.
This development is the main cause of excessive congestion being experienced at the hospital on daily basis, lately.
Kwame Frimpong, Public Relations Officer, KATH, made the disclosure during an interaction with the media.
In the face of this seeming daunting challenge, he explained, that staff at KATH were doing their best to satisfy patients.
He said the non-existence of a regional hospital in the area was also contributing to the congestion at KATH.
In the face of these challenges, Mr Frimpong noted that doctors and nurses of KATH worked above themselves to administer effective medical care to patients.
He openly bemoaned that the hospital was not receiving adequate help from outside with regards to its ageing facilities.
Mr Frimpong disclosed that KATH via its internally generated funds, recently purchased generators at the cost of ¢2.9 billion (old cedis) to boost its power supply.
Ideally, he lamented, the hospital should have received help from outside with regards to the purchase of the generators but that was not the case.
Mr Frimpong therefore urged the media to appreciate the good works of KATH and refrain from publishing negative reports about the hospital.
He did not understand why the media would always descend on KATH authorities when water supply to the hospital is cut.
The KATH PRO, a trained journalist with many years of experience, charged the media to question service providers when they fail to deliver.
Offeh Gyimah, Director of Administration, KATH, said Ashanti Region was the least endowed in medical facilities despite being the most populous region in the country.
He tasked the media to report about this depressing issue so that the authorities concerned would come to the aid of the region by constructing medical facilities at the place.
Mr Gyimah explained that the hospital had decided to make the KATH PRO, Kwame Frimpong to be the official spokesperson for the hospital for strategic reasons.
Besides the PRO being an experienced journalist 'who we trust so much, he said, the decision by management is to streamline and ensure consistency in our messages to the public.'
 FROM I.F. Joe Awuah Jnr., Kumasi