Gov't: President Mahama has violated no law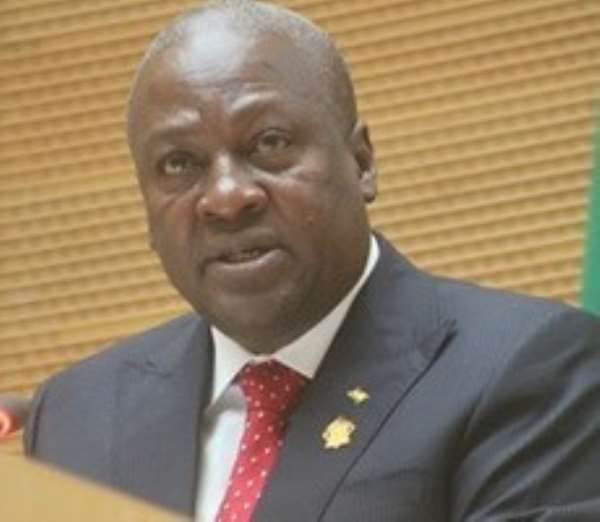 Government has denied claims by the Member of Parliament for Okaikoi Central that the president has violated the Presidential Office Act by not submitting a list of staff at the presidency to parliament.
A statement issued Tuesday said the president is only required to submit such a list three months at the end of each financial year which will be due in March 2014.
Read the full statement below
For immediate release
PRESIDENT JOHN MAHAMA HAS NOT VIOLATED GHANAIAN LAW
Government's attention has been drawn to claims in sections of the media by Member of Parliament for the Okaikoi Central Constituency, Hon Patrick Boamah to the effect that President John Dramani Mahama has violated the residential Office Act by not submitting a list of Presidential Staffers to Parliament.
Government wishes to point out that Hon Patrick Boamah based his claims on an erroneous interpretation of Section 11 of the Presidential Office Act.
For the avoidance of doubt Section 11 of the Act reads as follows:
"The President shall within 3 months after the end of each financial year submit to Parliament an annual report containing the following information —
(a) The number of presidential staff employed at the Office;
(b) The rank or grade of such staff; and
(c) Employees in the other public services assigned to the Office."
A careful reading of the above provision shows clearly that President Mahama is not in breach of the Act as the obligation to submit the list of staffers to Parliament will only be due in March 2014, which will be three months after the end of the financial year.
Whiles appreciating the efforts of Members of Parliament to ensure compliance with Ghanaian law by the executive, government entreats them to situate such demands for compliance within an accurate interpretation of the relevant laws.
FELIX KWAKYE OFOSU DEPUTY
MINISTER FOR INFORMATION AND MEDIA RELATIONS
(August 20th, 2013)