Egypt holds Brotherhood head upping stakes with Islamists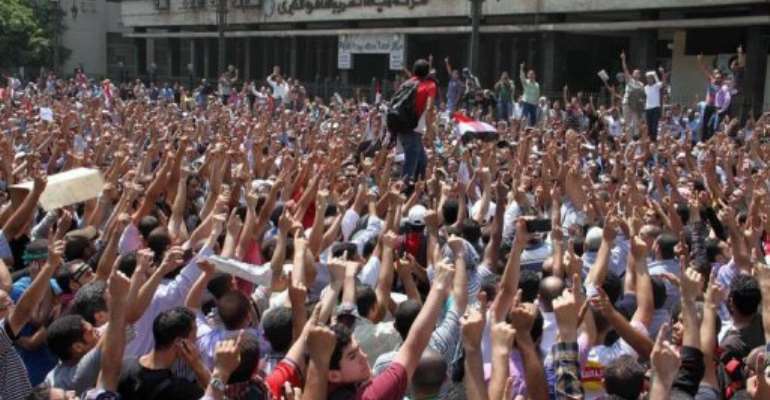 CAIRO (AFP) - Egyptian authorities detained Muslim Brotherhood leader Mohamed Badie on Tuesday, dealing a new blow to the Islamist group demanding the reinstatement of the country's first freely elected leader.
Mohamed Badie, who was remanded in custody for 15 days on suspicion of inciting the murder of protesters, was held as the Brotherhood reels from the detention and killing of hundreds of its members.
Despite its disarray, the Brotherhood moved quickly to name Mahmoud Ezzat, a hawkish deputy in the organisation, as interim supreme guide.
Badie's detention raises fears of new violence in the Arab world's most populous state, where nearly 900 people have died in days of clashes between security forces and Islamist supporters of Morsi.
It is the first time a Brotherhood supreme guide has been arrested since 1981, before president Hosni Mubarak, the veteran strongman ousted in the Arab Spring revolution of 2011, took office.
And it could rally Islamists who have showed up in dwindling numbers in the face of mounting bloodshed and depictions in both state and privately owned media as "terrorists."
The interior ministry said police picked Badie up near Rabaa al-Adawiya square, where more than 280 Morsi supporters were killed on Wednesday as police cleared their protest camp.
It released a video of the 70-year-old, sitting impassively on a sofa, bottles of juice and water placed conspicuously in front of him.
The Brotherhood's political party said the group had appointed Ezzat to assume the role of supreme guide.
Ezzat has been jailed repeatedly, and is often referred to as the organisation's "iron man."
Compared to Badie, Ezzat is a "hawk," said Karim Bitar, research director at the Institute for International and Strategic Relations.
"It could be a signal, showing we can respond to authoritarianism with more authoritarianism," he said.
"In any case, it's a sign that this is not the time of the moderates in Egypt," he added.
Violence has rocked Egypt for days, polarising the country and drawing international condemnation.
On Monday morning, militants killed 25 riot police in two buses in the Sinai Peninsula, in the deadliest such attack in decades.
Sources said the forces were dragged from the buses and shot execution-style.
The interior ministry blamed the attack on "armed terrorist groups" and Egypt closed its border with the Gaza Strip, near where the attack struck.
Security sources said another policeman was killed in North Sinai, bringing the number of security force personnel killed in the Sinai since Morsi's ouster to 75.
On Monday evening, coffins draped with Egyptian carrying the bodies of the 25 police arrived in Cairo.
State television aired live coverage, and added a black border to the "Egypt fighting terrorism" banner it has run for days.
The Sinai attack came hours after 37 Muslim Brotherhood detainees died as they were being transferred to a north Cairo jail.
Authorities said they suffocated on tear gas fired by police trying to free an officer the prisoners had taken hostage.
But the Morsi's Brotherhood accused the police of "murder."
They said the incident affirmed "the intentional violence aimed at opponents of the coup, and the cold-blooded killing of which they are targets."
United Nations chief Ban Ki-moon said he was "deeply disturbed" by the deaths and called for a "full investigation to ascertain the facts surrounding this incident."
And human rights group Amnesty International hit out at what it called "utter carnage."
The group's secretary general Salil Shetty said that Egypt, which relies heavily on international tourism, had "stained its human rights record."
Human Rights Watch called on Egypt's rulers to "urgently reverse" instructions for police to use live ammunition against protesters.
The UN rights office said it was pressing Egyptian authorities to let it deploy monitors.