British 'drug mules' arrive in court to learn whether they will be charged over bid to smuggle £1.5m worth of cocaine out of Peru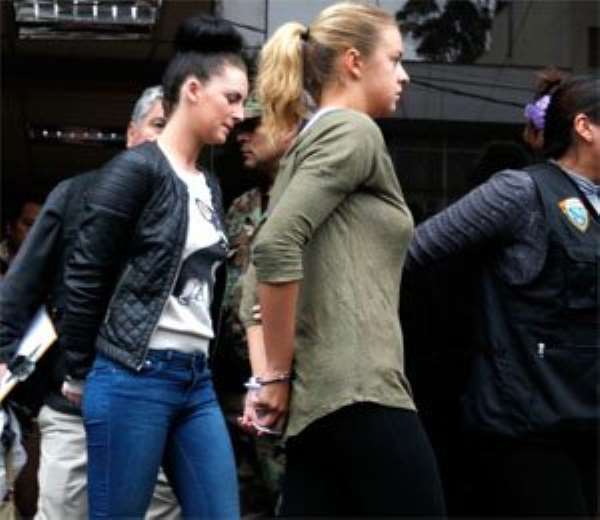 Arrival: Michaella McCollum Connolly (left) and Melissa Reid (right) were led to court in handcuffs today where they were due to find out if they would be charged for being drug mules
The British drug mule suspects held in Peru over an alleged bid to smuggle cocaine out of the country have arrived in court to find out if they will be charged. 
Michaella McCollum Connolly and  Melissa Reid, both wore handcuffs when they were  brought out from the National Police anti-drug headquarters front entrance to an awaiting media scrum.
The 20-year-olds looked sombre and kept their eyes to the ground as they were placed in a police car and driven to court.
The pair have spent the past two weeks in custody in Lima after they were arrested while trying to board a flight to Madrid allegedly carrying around 11kg of cocaine.
Peruvian police say they have concluded their initial investigation into the case with their findings forming the basis of a pre-trial hearing that will determine what the pair are to be charged with.
Detectives from Peru's drugs squad will today present their case against Michaela McCollum, a photography student and former nightclub hostess from Dungannon, County Tyrone , Connolly and Melissa Reid, to the district attorney of Lima.
If refused bail, the women face up to three years in jail before a trial. They both deny the allegations and claim they were forced to carry the bags by armed men.
But yesterday further questions about the two women's version of events were raised following the emergence of photographs that allegedly show them posing on a balcony and on a beach with glasses of beer days before they were arrested at Lima airport.
The pair say they were told to take photos of themselves at tourist spots to make it look like they were friends travelling together.
Dailymail