NPP will never come to power with Akufo-Addo as leader – Solomon Nkansah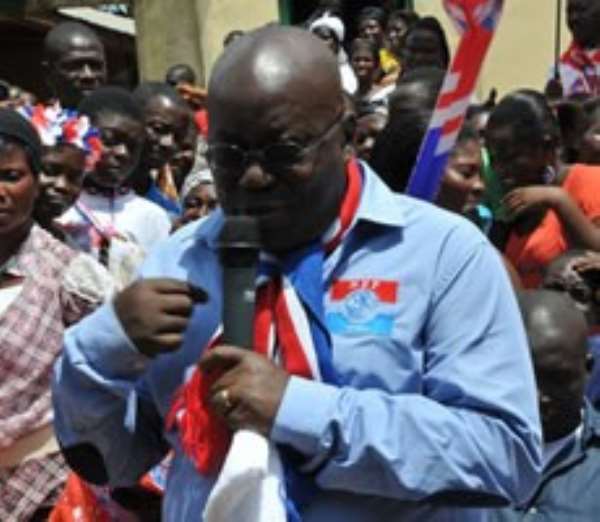 Nana Akufo-Addo
The Deputy Propaganda Secretary of the National Democratic Congress (NDC), Solomon Nkansah says Nana Akufo-Addo, presidential candidate New Patriotic Party (NPP) is the causative agent of the party's electoral shock in 2012.
He contended that NPP's quest to win power in the shortest possible time will be a mirage if the party does not change Akufo-Addo as leader.
Solomon Nkansah was commenting on the seeming division in the NPP following the party's decision to challenge the presidential election in court.
Nana Akufo-Addo, his running mate, Dr. Mahamudu Bawumia and party chairman, Jake Obetsebi-Lamptey are challenging the legitimacy of John Mahama who was named winner of the 2012 election by the Electoral Commission (EC).
After 48 days of legal battle, the Supreme Court will on August 29 give it final ruling on the Presidential Election Petition.
Even before the court gives its ruling, grapevine sources in the NPP say some key members in the party are lacing their boots to contest the flagbearership position. It is however not clear whether Nana Akufo-Addo will contest.
But on Adom FM's Dwaso Nsem Tuesday, Solomon Nkansah said Akufo-Addo's 'radical' way of politicking is not acceptable to many Ghanaians.
According to him, the infamous All die be die mantra which the party never apologized for, contributed the NPP's electoral woes.
The NDC Deputy Propaganda Secretary added that the NPP leader is not marketable and lacks the master plan to deliver victory for the party.
He also suggested to the leadership of the NPP to start grassroots organization and reorganization ahead of the 2016 general elections.
Solomon Nkansah said for the NPP to recapture power from the governing party, "Akufo-Addo must go".