Access Bank to mobilise GH¢100m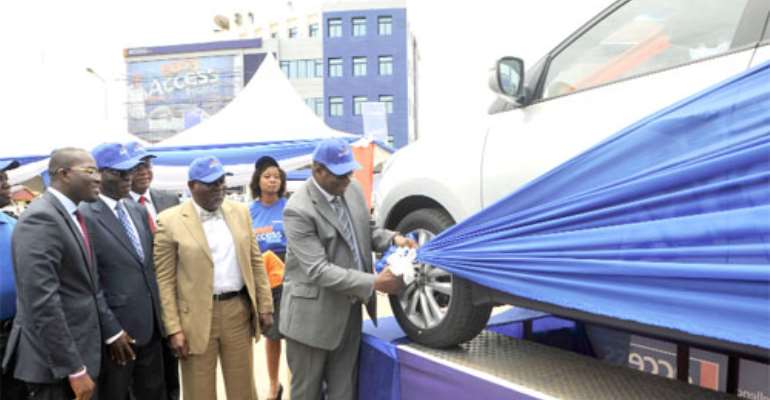 Access Bank (Ghana) Ltd has set out to mobilise a total of GH¢100 million over the next three months, as it launches a promotion to encourage savings with the bank and help deepen the savings culture in the country.

Between now and November 15, existing and potential Access Bank customers would be required to deposit a minimum of GH¢200, and keep a minimum account of GH¢500 within the three-month period to stand the chance of winning enviable grand prizes.
'In addition to rewarding our loyal customers for continuing to bank with us and increasing our share of their businesses, we are also encouraging people to save, own and operate their own bank accounts and be rewarded for making this conscious decision,' the Managing Director of Access Bank Ghana, Mr Dolapo Ogundimu, stated at the launch of the promo in Accra on August 15.
'The trend we have witnessed in the last few years indicates that most salaried workers have traded their income for huge asset finance loans to buy appliances, cars and so on, leaving them very little to cater for basic necessities such as rent, food, or health expenses, not to mention unforeseen emergencies,' Mr Ogundimu observed.
While attempting to discourage people from spending ahead of receiving their income, he said the bank wanted people to learn to save first before spending their money, saying 'anyone with sufficient savings is an empowered individual and this is very important to us at Access Bank.'
The Group Head of Retail Banking, Mr Stephen Abban, explained there were over 55 prizes at stake and added that for new customers who opened accounts, they would be entitled to Access Bank's e-banking products free of charge.
The promotion is being run in collaboration with the National Lottery Authority on its Caritas Lotto Platform.
By Graphic Business / Ghana