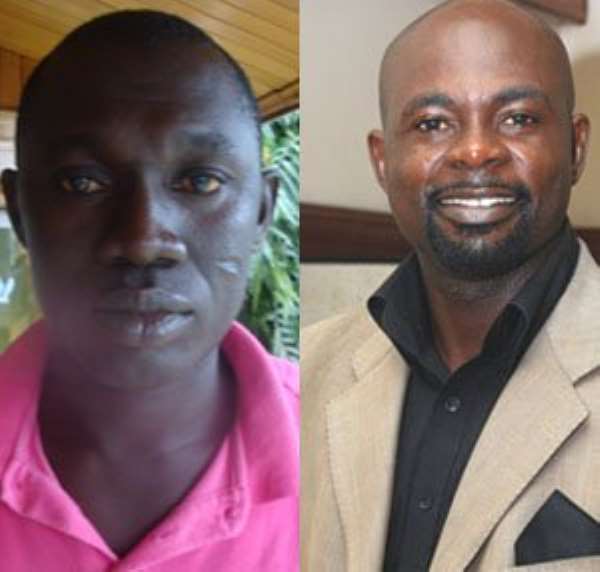 Isaac Adjei Nsenkyire aka 'Odenke' annd Hon Collins Amankwah
Isaac Adjei Nsenkyire aka 'Odenke,' NPP's Polling Station Chairman, New Tafo Division, in the Manhyia North Constituency, used bottles of schnapps and eggs to openly curse the MP at the Division School on Saturday after which he travelled to the Antoa River shrine to repeat the ritual.
Odenke told DAILY GUIDE that Mr Owusu Amankwah was allegedly peddling falsehood about him.
'Hon. Amankwa told some NPP members who were receiving party cards from him that I said they were not party members,' he said.
According to him, an attempt to meet the MP last Saturday to clarify the issues turned bloody.
He claimed Hon. Amankwah ordered some thugs to beat him.
He said he reported the matter to the police after which he invoked the spirit of the powerful 'Antoa' deity to deal drastically with him.
He noted that immediately he arrived at the school, Hon. Amankwah, who was in his car, sped off, stressing that he approached one Kwame Boakye, the special assistant to the MP.
When I tried to ask Boakye to explain why his boss was peddling falsehood about me, he became furious and started insulting me and this generated into a brawl.
At that moment, about six people appeared on the scene and one of them hit me hard on the chest, he indicated.
He alleged that six men subjected him to severe beatings until some Good Samaritans saved him from further misery.
Odenke said minutes after his release, Hon. Amankwah's car appeared at the scene and when the car stopped six men jumped from it and assaulted him like a common criminal.
He claimed Hon. Amankwah joined the goons but people in the area asked him not to fight in public.
Odenke said he later reported the matter to the police and invoked the spirit of the 'Antoa' deity to punish the MP for allegedly peddling lies about him.
 FROM I.F. Joe Awuah Jnr., Kumasi