Probe Killing Of 5 Fulanis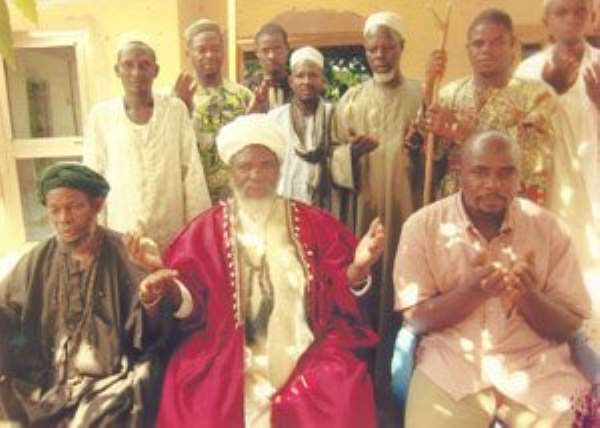 Sheik Abubakari Subhaanalhge (middle)
Speaking to DAILY GUIDE in an exclusive interview at Yeji, Sheik Abubakari Subahaanalhae condemned the attack by the people of Komkomba which led to the death of the four persons namely, Alhaji Bello Mikolli, 90 years; Alhaji Abdu, 70 years; Abubakari Mohammed and Umaru Bolgarima, all aged 65 years.
He said he would be pleased with the government if the President instituted a probe into the murder of the four Fulani herdsmen who were chased and killed like common criminals.
According to the spiritual leader, perpetrators of such heinous crimes should be brought to book without mercy to serve as deterrent to others.
The learned Sheik drew the attention of President Mahama to the Bible and the Koran emphasizing the need for the President to take good care of his subjects, including foreigners.
He said animal rearing and crop farming were important to the economy and pointed out that both of them must be taken care of. Sheik Subahaanalhae was of the view President Mahama as the leader of Ghana should protect everybody, irrespective of one's background.
He was also quick to add that attacking the Fulani community like what happened at Atebubu Prang, Gushiegu, Buipe, Agogo, Walewale and other parts of the country was not the solution.
He made reference to the Gushiegu incident where 14 Fulani herdsmen, including children and women were killed by Konkombas.
On his contribution, Alhaji Mohammed Awudu dismissed the allegation that Fulanis were rapist, robbers, murderers, and engaged in other social vices.
He appealed to the security agencies, especially the police to thoroughly investigate cases concerning Fulani herdsmen because not all the charges levelled against them were true.
He said there were people out there who deliberately cooked stories against Fulani herdsmen for their own parochial interest.
The Agona Swedru Fulani chief said Ghanaians must know that the Fulani community cuts across the whole country since time in memorial, so Ghanaians should see them as brothers and sisters.
Alhaji Awudu commended the Brong Ahafo Regional Police commander, DCOP Robert Ayalingo and his men for working hard to track down all those involved in any criminal act in the region.
 FROM Eric Bawah, Yeji