Ghana's Sanitation Situation Worrisome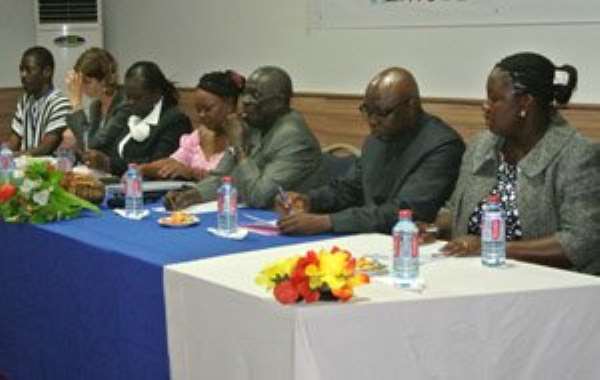 P.V Obeng and other dignitaries at the opening, including Akwesi Oppong-Fosu (2nd right) during the opening
Opening a sanitation conference on behalf of President John Dramani Mahama in Kumasi on Wednesday, he emphasized the need to evolve a workable plan to assist Ghana to achieve MDGs7.
The presidential advisor attributed the country's underperformance to erroneous implementation of sanitation policies.
'We all know we have underperformed in the sanitation sector, so whatever needs to be done should be done with a certain level of urgency in order to recover lost time,' Mr Obeng stressed.
He also attributed the development to the lack of urgency in the implementation of the country's sanitation policies.
The Mole Conference was organized by the Coalition of NGOs in Water and Sanitation (CONIWAS).
The chairman of the occasion, Doris Yaa Dartey, a Water Sanitation and Hygiene (WASH) communications expert, on her part, called on the stakeholders to address the problems in order to avert a disaster.
On the priority list of the Ministry of Local Government is the issue of sanitation, according to Akwasi Oppong-Fosu, Minister of Local Government.
He said the bulk of the work would be done by the Metropolitan, Municipal and District Assemblies (MMDAs).
'I have told the Metropolitan, Municipal and District Chief Executives that any of them who will under-perform and fail to deliver on sanitation will go before I go,' the Minister stated.
'People break the law and when they are apprehended, they quickly assume political tags of foot-soldiers and opposition leaders so they can escape prosecution,' the Minister observed.
'Sanitation-related diseases do not know any political boundaries so we need to deal with the canker of indiscipline in the sector as well as dealing with the politicization of issues so that we can enforce policies and laws in Ghana,' Oppong-Fosu said.
 From Ernest Kofi Adu, Kumasi