Justice Atuguba Sanitises Airwaves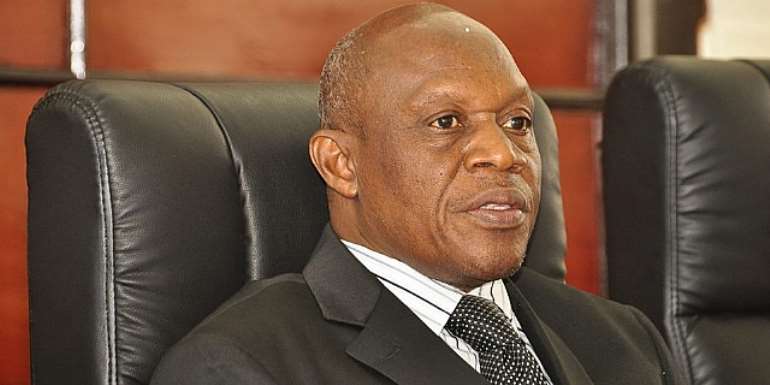 It appears the long judicial arms of the Supreme Court judges that came down on some social commentators, who could be described as suffering from verbal diarrhoea; seem to have sanitised the airwaves for the past few days, according to the Media Foundation for West Africa (MFWA).
Prior to that, the airwaves were filled with tension, fear and panic with some even threatening that the ruling by the Supreme Court would not be binding on the people of Ghana.
However, since the jailing of Stephen Atubiga, an NDC Communicator and Ken Kuranchie, Managing Editor of the Daily Searchlight for making contemptuous remarks , sanity seem to have prevailed on the airwaves as many social commentators censor their speeches to avoid contempt of court. The latest scolding at the NPP General Secretary, Kwadwo Owusu Afriyie, alias Sir John has also helped.
The latest report on radio monitoring by MFWA firmly establishes this fact. 'The combined efforts of the SC's punitive actions, the general calls for peace by other Civil Society Organisations and the MFWA's on-going language monitoring appear to be gradually contributing to sanitising the airwaves,' the report stated.
However, the first 10 days of MFWA's monitoring recorded a total of 14 indecent expressions on 13 out of the 147 programmes that were monitored on the 26 target radio stations, according to the report.
It further said morning political discussion programmes aired in the Akan language registered most (9) of the indecent remarks recorded in the course of the monitoring adding that the category of indecent expressions that recorded the highest incidence was unsubstantiated allegations followed by insulting or offensive comments, innuendoes, remarks calling for confrontation and violence and then provocative and sarcastic remarks.
The report said overall, individuals belonging to three (3) political parties, which include the New Patriotic Party (NPP), National Democratic Congress (NDC) and the National Democratic Party (NDP), were cited as having used indecent expressions.
Together, the activists of the three parties made a total of 12 out of the 14 indecent expressions recorded.
The remaining two indecent expressions were made by individuals whose political affiliation was not known, the MFWA report added.
The report cited Mr John Boadu, Deputy Communication Director of the NPP on Oman FM's National Agenda of August 1, 2013 for making innuendo-laden comments.
Hon. Fifi Kwetey, Minister of State In-Charge of Allied and Financial Institutions was not left out.
He was accused in the report for making unsubstantiated allegations against his political opponents on Radio Gold's Alhaji & Alhaji programme aired on August 3, 2013.
In view of the findings, the MFWA is calling on the media to uphold the ethics of the profession and take up their rightful place in the campaigns for peace.
It is also calling on moderators of political and current affairs programmes in particular, to dedicate at least a minute on their programmes to promote peace on their respective programmes.