Deadly Sinai ambush adds to growing Egypt crisis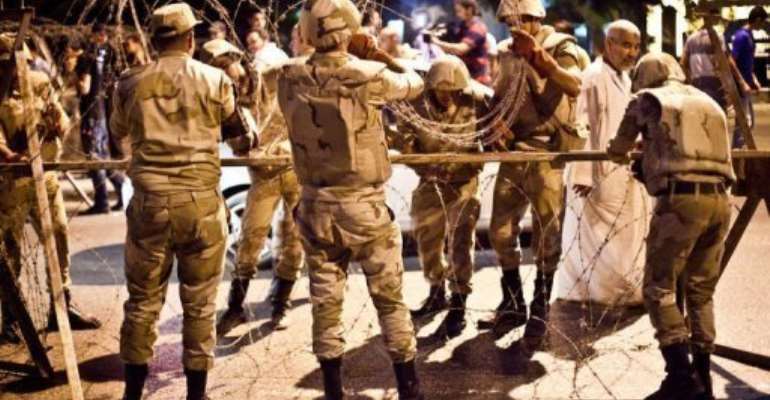 CAIRO (AFP) - Militants killed 25 Egypt police on Monday in the deadliest attack of its kind in years, as the country struggles to deal with a crisis sparked by the ouster of president Mohamed Morsi.
Sources said militants fire rocket-propelled grenades at two buses carrying police in the Sinai Peninsula, just hours after Egypt's military chief vowed a "forceful" response to violence roiling the Arab world's most populous nation.
The attack raised fears of a return to the wave of deadly Islamist violence that swept Egypt in the 1990s.
It comes as the country struggles to put a lid on a deep political crisis and bloodshed that has left almost 800 people dead in days of clashes between Islamist protesters and security forces throughout Egypt.
Among those killed in the latest violence were 36 Islamist detainees who died in police custody overnight, with authorities saying they had suffocated on tear gas fired after they took a police officer hostage.
Morsi's supporters vowed new demonstrations on Monday, but a day earlier they had cancelled several marches citing security concerns.
The Sinai attack left at least two other policemen injured, with unknown militants firing on buses carrying police as they headed towards the town of Rafah on the border with the Palestinian Gaza Strip.
The interior ministry blamed the attacks on "armed terrorist groups," and a border official said shortly afterwards that the Rafah border crossing would be closed.
The security situation in the Sinai Peninsula has deteriorated sharply since the army ousted Morsi on July 3, with near daily attacks by militants targeting police and military installations.
Elsewhere in the country, bloodshed sparked by the August 14 security force crackdown on pro-Morsi protest camps showed little sign of abating.
Authorities said 36 Islamist detainees died after police fired tear gas in a bid to free a police officer taken hostage by prisoners.
But the Muslim Brotherhood, the once-banned movement from which Morsi hailed, held the police accountable.
"The murder of 35 detained anti-coup protestors affirms the intentional violence aimed at opponents of the coup, and the cold-blooded killing of which they are targets," it said in a statement in English.
The deaths of the detainees came hours after military chief Abdel Fattah al-Sisi warned that security forces would confront any violence from protesters.
"We will never be silent in the face of the destruction of the country," said Sisi, who overthrew Morsi on July 3 after protests against the Islamist president's rule.
"We are very prepared for this," he said, pledging a "forceful" response to further attacks on police stations and government buildings.
Morsi loyalists said they would hold new marches on Monday, but cancelled several a day earlier, citing fears of violence by security forces and vigilantes.
According to an AFP tally, more than 1,000 people have been killed since mass demonstrations against Morsi erupted at the end of June, among them a son of the Brotherhood's supreme guide who died on Friday.
The violence sparked by the August 14 crackdown has drawn international condemnation and EU leaders have warned the bloc will "urgently review" ties with Cairo in the coming days.
European ambassadors were recalled from their summer break for an emergency meeting in Brussels.
The European Union has pledged nearly five billion euros ($6.7 billion) in aid to Egypt but the bloc has cautioned this too was under "constant review" after Morsi's ouster.
French President Francois Hollande said after a meeting with the Saudi foreign minister: "It is unacceptable that there is violence of this level in a great country like Egypt."
The United States has announced the cancellation of its biannual military exercise with Egypt, and its embassy in Cairo was closed Sunday for security reasons.
The White House has stopped short of suspending $1.3 billion in annual aid, although some US lawmakers called Sunday for the funds to be cut.
But the international response has not been uniformly critical. Both Saudi Arabia and Jordan have said they back Egypt in its fight against "terrorism".
In the 1990s, Egypt was hit by major attacks linked to Islamist groups such as Gamaa Islamiyya and the Islamic Jihad, with targets including government officials and security forces, Coptic Christians and the country's vital tourism industry.
One of the deadliest attacks took place in 1997 when militants struck the mortuary temple of Queen Hatshepsut in the tourist haven of Luxor, killing 58 holidaymakers.