Funny Picture: Youngsters Wrap Balotelli's Expensive Ferrari In Toilet Paper For Snubbing Them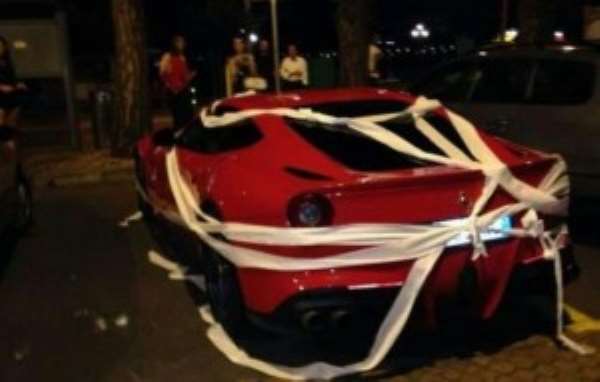 Balotelli's expensive Farrari nicely wrapped in toilet paper
Young football fans in the Swiss town of Lugano punished controversial AC Milan striker Mario Balotelli by wrapping his expensive Ferrari in toilet paper for refusing to sign autographs for them.
The striker of Ghanaian descent met the bitter surprise on Saturday night as he travelled to Lugano, a few kilometres from Milan, for a night out to enjoy himself.
When he arrived in Piazza Rezzonico, Balotelli parked his brand new Ferrari and was noticed by the local boys who approached him for autographs and pictures to post on their Facebook pages to show to their friends.
Surprisingly the usually friendly Balotelli snubbed the youngsters and headed for a nearby restaurant to begin his night out.
Feeling snubbed, the youngsters were unperturbed  by planning a revenge attack  in funny proportions.
Balotelli returned to find his expensive car nicely wrapped in toilet paper which made him angry.
The youngsters bragged about their achievements as they posted the pictures on their Facebook walls which drew huge applause from their friends.
Balotelli will probably now learn the lesson of not snubbing fans who are bent on getting autographs and pictures.
 
 
 
In another funny situation came forward, "Milan" Mario Balotelli.  In Lugano his car wrapped with toilet paper after a 23-year-old refused to sign an autograph and take a picture of local fans. 
According to the Corriere dello Sport, the Italian national team striker retired from teenagers, and "decorated" car found later in the parking lot.