NCCE warns against distribution of offensive t-shirts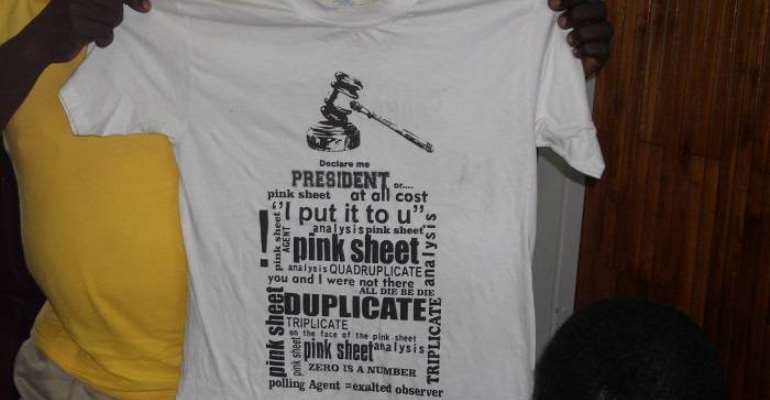 Sekondi (W/R), Aug. 17, GNA- The National Commission for Civic Education (NCCE) on Friday condemned the distribution and wearing of T-shirts with provocative inscriptions in the Western Region.
 
Mr Alphonsus Arthur, Regional Director of the NCCE, said the T-shirts are likely to inflame passion and lead to violence after the Supreme Court verdict on August 29.
 
Addressing a news conference in Sekondi, he warned those behind the printing and distribution of the T-shirts to stop the offensive conduct.
 
He said the Commission is investigating the source of the product and urged all well-meaning Ghanaians to exercise circumspection and tolerance ahead of the Supreme Court ruling.
 
Mr Arthur exhibited some of the T-shirts seized by the Commission with the following inscriptions:  'You and I were not there,' 'Dr pink sheet,' 'Polling agents equals exalted observer,' 'Pink sheet analysis is quadruplicate,' and 'Declare me president at all cost.'
 
He said the NCCE had embarked on intensive public education to manage post-election disputes.
 
Mr Arthur cautioned activists of the ruling National Democratic Congress and the main opposition New Patriotic Party to exercise maximum restraints considering the delicate nature of the election petition.
 
He appealed to the security agencies especially the Ghana Police Service to be on high alert and arrest anyone who attempts to disturb the prevailing peace and harmony in the country.
 
GNA