Catholics urged to pray for peace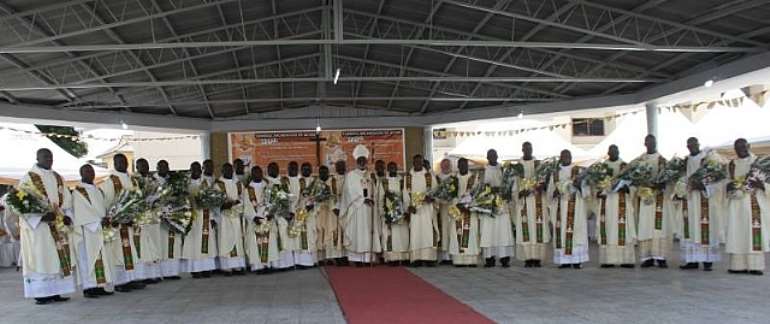 Accra, Aug. 17, GNA - The Most Reverend Charles Gabriel Palmer-Buckle, Metropolitan Archbishop of Accra, on Saturday urged Catholics to utter the Novena prayers for peace.
 
He said: 'As directed by the Catholic Bishops' Conference, you should continue the novena prayer of peace for Ghana, not because we are afraid but it is good for our spiritual growth as well.'
 
Archbishop Palmer-Buckle noted that it is necessary for Catholics to pray for the panel of the Supreme Court Justices hearing the election petition to give a verdict that would unite the country.
 
'I am praying to God that as the justices think of the case, the leaders of the two political parties will meet in chambers to settle for peace. It is my prayer that after the verdict is given we must unite as one people and work together for the growth of the country,' he said.
 
Archbishop Palmer-Buckle gave the advice at the ordination of 23 Catholic priests at a ceremony in Accra.
 
Out of the 23, one was a Diocesan Priest, two were Society of African Missions, nine were Divine Word Missionaries, two were Comboni Missionaries of the Heart of Jesus, and nine were from the Congregation of the Holy Spirit, Province of Ghana.
 
The Archbishop reminded the newly-ordained priests not to forget their mission, which is to take up the work of evangelisation by proclaiming the Good News of Jesus Christ, especially through their own way of life, words and deeds.
 
He asked them not to take the celebration of the sacraments for granted because the celebration is to make Jesus Christ available and present to the people of God.
 
'Make especially the celebration of the Holy Eucharist the source and strength of your lives. Do not forget daily adoration of the Blessed Sacrament. Help the people of God to know and love Jesus in the Blessed sacraments. 
 
'One of the sacraments, I will beg you to take also very seriously, is the Sacrament of Penance and Reconciliation. Make use of it regularly and make it always available to the people of God for whom today you are being ordained a priest,' he added.
 
Archbishop Palmer-Buckle said the third priestly responsibility is the teaching of faith; to teach what Jesus Christ teaches in the Holy Scriptures for God's children to live a Christ-like life.
 
'As we rejoice today, let us continue to pray so that God will renew our Archdiocese by calling many more young men and women in our archdiocese to the holy priesthood, the religious and consecrated life, as well as to the holy matrimony and good Christian family life,' he added. 
 
GNA