Poor rail lines affect manganese exports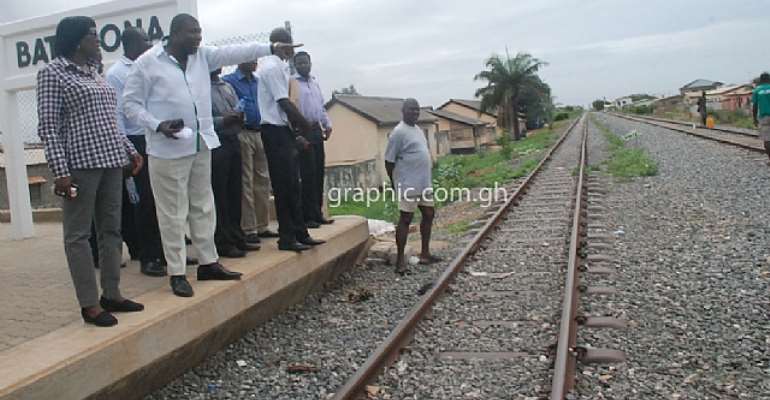 Road transportation of the material costs the Ghana Manganese Company 65 per cent of revenue, while rail transport for the same quantity costs less than 40 per cent.
The Finance Manager of Ghana Manganese Company (GMC), Mr Ronald Schuurhuis, said this in an interaction with the Journalists for Business Advocacy (JBA), who were on a tour of parts of the Western Region.
'The risk remains increased road costs and capacity constraints at mines and infrastructure levels, will inhibit the ability to take advantage of the opportunity of the rising demand for manganese across the world,' Mr Schuurhuis said.
At the moment, manganese mined by the company is hauled by road, a situation company officials describe as a major factor in increasing costs.
The export of manganese from Ghana increased from 1.2 million tonnes in 2010 to 1.8 million tonnes in 2011 in spite of several challenges facing the industry.
Manganese is an important metal for the production of iron and steel. It is also alloyed with aluminium to produce a metal that is more resistant to corrosion.
Currently, manganese produced from the Nsuta-Tarkwa mine of GMC and is exported to Ukraine,China and Norway to be used as alloying agents in the steel industry, chemical industry, and pigments, as well as agents in dry cell batteries.
'It is more cost effective for us to haul by rail than by road and in future when there is a higher demand for manganese, we may not meet the target,'' the finance manager said.
'On two occasions, the Ghana Manganese Company has offered to directly invest in the rail infrastructure; but until now, the authorities are yet to accept the company's offer,' he disclosed.
As a result, he added, Ghana Bauxite Company had completely stopped hauling goods by rail and solely transported its ore by the less cost-effective road transport, resorting to the use of rail on a reduced operational level.
The rehabilitation of the western railway line is part of the US$3 billion China Development Bank (CDB) loan agreement and is expected to cost an estimated US$400 million.
But the Public Relations Officer of GMC, Mr Omar Timety, said, 'in future if the government's plans for the railway sector does not come to full force, it will mean that road haulage will go up, and that is obviously something we will all not want to see.'
Despite the challenges, Ghana Manganese Company posted a solid 2011 performance with the export of manganese, increasing by 53 per cent from 1,193,665 dry tonnes in 2010 to 1,827,692 dry tonnes in 2011.
By Suleiman Mustapha / Daily Graphic / Ghana