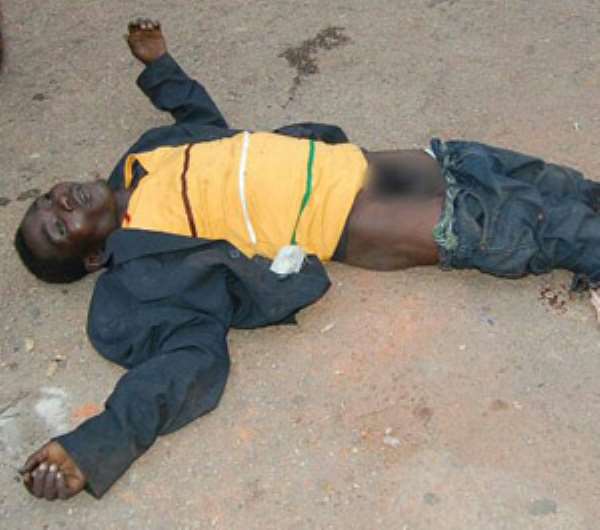 KILLED! Kwame Appiah
The suspect, who was identified as Kwame Appiah, was hit on his right leg below the knee and bled to death while being transported to hospital.
He and another member of his gang  robbed one James Lartey, a mason who was travelling back to his hometown.
Sergeant Godwin Ahianyo, Ashanti Regional Police Deputy PRO, told DAILY GUIDE the accomplice of the deceased robber managed to escape with James Lartey's GH¢60, mobile phone and handbag containing masonry tools.
According to him, the screams of the victim for help attracted personnel of the Visibility and Accessibility Patrol team in the area.
The gangsters took to their heels upon seeing the police officers, who shot one of them to demobilise him, but died of his wounds while being taken to the hospital for treatment.
Sergeant Ahianyo said the victim was assisting with investigation as the police searched for the escapee miscreant and possibly other members of the robbery syndicate.
The police PRO called on the travelling public to be security conscious, while urging citizens to inform the police about people with suspicious character.
The latest victim adds to the 18 armed robbers to have been killed during police operations in the Ashanti Region over the last 15 months.
Thirty-nine others were successfully prosecuted and sentenced to jail terms of between 10 and 90 years.
Regional Commander, DCOP Augustine Gyening, who revealed this, was however worried there was no deterrent punishment for illegal possession of fire arms.
Speaking at the commissioning of the Regional Visibility and Accessible Department office in Kumasi, DCOP Gyening also announced three police officers were wounded in shoot-outs with armed robbers.
'In the same vein, 18 (criminals) have fallen as a result of a shoot-out with police while three policemen suffered gunshot wounds. It is our wish to maintain the momentum so as to reduce the activities of these armed robbers to the barest minimum,' he stated.
 From Ernest Kofi Adu, Kumasi