African Royal Durbar Festival 2013
Working for the future Together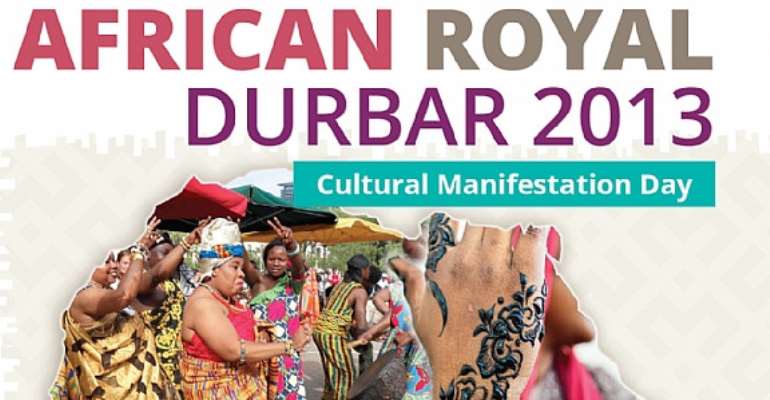 The Hague, July 31 2013
After previous, successful editions of the African Royal Durbar Festival the time has arrived for another spectacular and festive edition. Organised in previous years as GhanaFest (Ghana Festival), this year the event will take place on the 31st of August 2013 at the ''Slachtshuis Plein'' in The Hague. The festival is aimed at highlighting the culture of the different nationalities living in and around the Hague. It will also provide an opportunity for various communities to meet, understand and enjoy each other's cultural heritage.
The festival is organized to celebrate various African nationalities and to work on a better social society together. Because of the social and the economic aspect of this festival the theme of this edition will be: Working for the future together and Healthy upbringing .
This year's edition will be dedicated to the connection between African migrants and Hague district and city dwellers with the aim of working towards a better future. As in previous years, various activities such as African dance and music performances, sale of African products and reading of African stories with children at the public library of Laak municipality in the Hague. Also planned are informational activities for potential entrepreneurs and students concerning entrepreneurship and internships. There will also be an activity concerning health and fitness. Finally, African cuisine will also be on offer.
Interested in participating by showcasing your products, company or coverage for your organization?
For more information visit our website on www.afroeuro.org or contact us through [email protected]