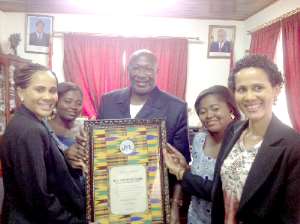 Zeena and Maya Abou-Jaoude (left and right) of the Ghana Twins Foundation assisted by a set of twins, Nora and Dora Amerley, presenting a citation to Mr Sini Pierre Sanou, Ambassador of Burkina Faso to Ghana, Togo and Benin.
This is for his tremendous support and significant contributions to the activities of the foundation for the past eight years.
'Mr Sanou is a twin whose passion, dedication and contributions have made a strong impact on the lives of many multiple birth children in Ghana,' the foundation said.
The Ghana Twins Foundation (GTF) was formed in June 1999 by a set of twins genuinely concerned about the welfare of deprived twins.
It is a non-governmental organisation promoting the social and economic well-being of deprived and needy twins in the Ghanaian society, and supporting parents facing challenges raising twins and multiple-birth children. Its objective is to increase awareness of the special needs of twins and promote their rights.
One other strength of the GTF is its strategic status as the first charitable organisation to have welfare programmes for deprived twins and their mothers in Ghana.