Nyaho Tamakloe alleges Ayikoi Otoo was disallowed from joining petitioners' legal team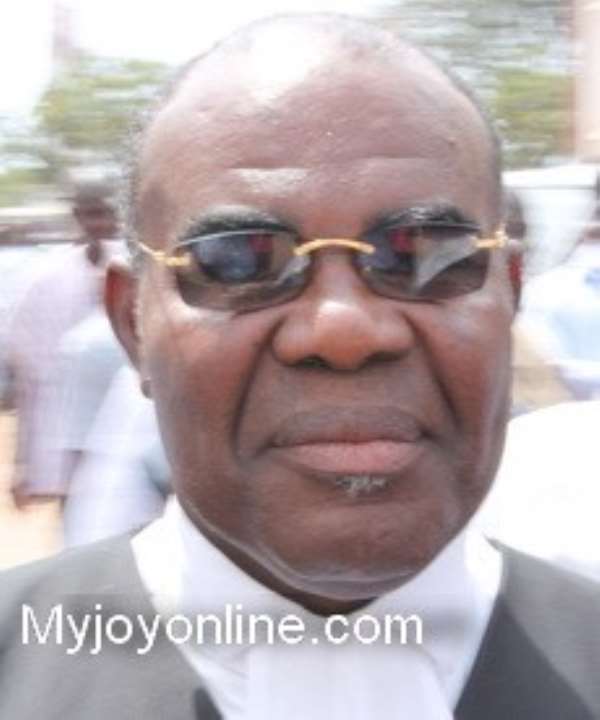 Lawyer Ayikoi Otoo
A founding member of the New Patriotic Party (NPP), Dr. Nyaho Nyaho Tamakloe has alleged that former Attorney General (AG) and lawyer Nii Ayikoi Otoo was stopped from joining the party's legal team representing the petitioners in the Supreme Court.
He said he knows "for a fact that Ayikoi Otoo made every effort to get on the legal team and he was tossed here and there [till] he gave up'.
Dr. Tamakloe was speaking on Asempa FM's Ekosii Sen program Thursday, commenting on the former AG's sterling performance in court on Wednesday.
Through a witty advocacy at the Supreme Court, Nii Ayikoi Otoo was able to get the nine angry judges to waive a jail sentence meant for the opposition party's General Secretary Kwadwo Owusu Afriyie and a youth activist, Hopeson Adorye who were facing criminal contempt charges.
The two men were alleged to have scandalised the court through some comments they made about the ongoing election petition hearing.
But a subtle mitigation by their lawyer Ayikoi Otoo wooed the judges to fine the contemnors GH¢5,000 and 2,000 respectively.
Unfortunately the lawyer of the moment is not part of his party's legal team challenging the legitimacy of President John Mahama.
This has led many to question how such an astute and experienced legal brain could have been overlooked in the selection of legal representatives for the petitioners.
Speaking on Asempa FM's Ekosii sen Thursday, Nyaho Tamakloe decided to the Pandora box. He alleged that Ayikoi Otoo was not consulted when the party was selecting lawyers to defend its case in court.
He was certain the petitioners would have been better of if the former Attorney General had been part of the team.
"We might have had a more comfortable ride in court; the experience Ayikoi Otoo has in law is incomparable. In this world, any profession even among artisans, experience counts a lot, " Nyaho asserted.
He found it very intriguing that lawyer Otoo, as chairman of the legal committee of the NPP, would be sidelined in such a landmark case.
Failing to name the supposed mafias who ousted the former Attorney General from the legal team, Dr. Nyaho Tamakloe blamed the party's leadership for the development.
Looking at Ayikoi Otoo's brilliance in defending Owusu Afriyie and Hopeson Adorye in court, he said, the NPP has done itself a great disservice in excluding him.
Dr. Tamakloe observed that it only takes an experienced and radiant lawyer to redeem his clients charged by the highest court from being jailed.
As far as he was concerned, God used the happenings in court last Wednesday to prove to all Ghanaians how experienced and worthy Ayikoi Otoo really is.